As we experience the second half of the technological revolution, those who are in leading positions are becoming more and more aware of the importance of digital tools in our daily lives and work. It's now more clear than ever that organisations and companies which were early adopters of digital technologies in their early stages of development, have managed to be at the top of their fields today.
 
By Mia Kollia
Translated by Alexandros Theodoropoulos
#digitaltransformation #corporate #techrevolution #economy #technology #digital #artificialintelligence #customerservice
Today, digital transformation is no longer a simple choice that we can bypass or manage indiscriminately, but an urgent need for the survival and growth of our businesses.
When we talk about digital transformation, we mean the use of digital and electronic media and tools that we can employ to transform an existing process from analog, handwritten or material, to digital. Such conversions can be applied to internal or external procedures: internal department communication, customer service, and so on.
So far, a typical process of achieving digital transformation starts with a study that gathers information and analyses the existing situation, makes the necessary purchases of materials, follows the training and, finally, replaces older mechanisms with modern ones, monitoring the process and collecting feedback for future cases.
But it would be a mistake to limit our thinking and treat digital transformation as a process guided only by technology. The success of such a venture involves multiple fields and goes beyond a simple renewal of digital materials.
The Correct questions
Before we even start wondering what are the ideal new technologies that we will be called to embrace, we must first know what our business needs and why.
Questions like "How could we better serve our customers through faster and more flexible technology?" or "How could we use artificial intelligence to enhance employees' experiences and retain top talent?" is just the beginning of a list of questions we need to answer.
Only after collecting all the answers to key and necessary questions, will we be able to define exactly what are the appropriate digital technologies that will help us achieve our goals.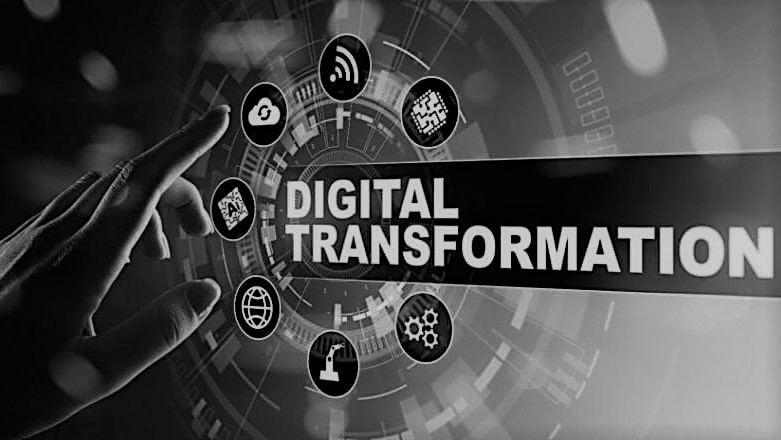 Enthusiastic fans
Every new technology is initially treated with skepticism and resistance – an initial thoughtless defence to the new and unknown. After all, it is difficult to disrupt the inaction brought by the status quo. However, in every organisation there are exceptions; the people who are full of enthusiasm and good mood and can be easily identified and used in our transformation process. 
Employees who work with traditional technologies but have an open mind and enthusiasm are the first to be actively involved in the process of an initial integration of any change we want to propose.
They will also act as a supportive framework to control how the changes we propose will affect day-to-day work, but also how they will be pioneers in the process of integrating the rest of the workforce as ambassadors of our ideas.
The Initial Change
Even the most complex and grandiose transformations begin with a first step. As leaders, we can try to articulate our vision clearly and enthusiastically, but it is often difficult for other people to accept our ideas and overcome their prejudices and fears.
Thus, it's always easier to put at the core of our plan a unique change that can act as the main guide of the whole idea. Many people (even C-suite executives) need to see tangible success before opening up to further change.
If we choose a technology that is important for our business but relatively simple to understand, we will be able to apply it quickly and get positive results immediately. Thus, partners and employees will trust us enough to activate and follow our broader program and vision.
Redefining
Technology is not an end in itself, but a means to achieve a goal. It should be in the service of a company and not the other way around. The real value of digital transformation cannot be achieved by one initiative or the other. The ultimate goal should be a complete redefinition of the business, which transforms the way the organisation creates, offers and receives value in the market.
After all, the most extensive and in-depth exploitation of the potential of new digital technologies isn't just to increase efficiency or temporarily reduce costs, but to be able to ask fundamentally different questions about our business and entrepreneurship in general. It is the in-depth exploration of these possibilities that will enable us to solve complex problems and have significantly more positive results for our customers, employees and the sectors we serve.
Finally, it's very important to always keep the ultimate goal of our efforts at the centre of our thinking. Whether it's about improving a number of procedures, increasing staff productivity or strengthening communication with new market segments, the digital transformation is sure to lead to huge changes within our companies.  
All that is needed from us is vision, good mood, stubbornness and planning.