One of the greatest Greek artists, Giannis Tsarouchis, was not only a painter. Giannis Tsarouchis was a huge, multifaceted and diverse personality recognised in the international arena, with passions that defined the culture of our country. 
By Mia Kollia
Translated by Alexandros Theodoropoulos
A painter and one of the most important Greek hagiographers, George Bogdanopoulos, who was his collaborator for a number of years, does the honours of writing about him at ImpacTalk.  
Patras, April 7, 2021 
Much has been said and written about Tsarouchis. Many incidents of his life like clever comments, taglines, and even stories about his friendships or quarrels, are well known. Maybe one day we will get to know his true value...
I was in his group for about twenty years and lived some moments that I will try to remember here, now. 
One time, I am in his house in Maroussi while he's giving a radio interview. He talks "about love" and the journalist remarks: "teacher, I suppose you are talking about Platonic love ..." - "Why? Is there anything else? " Tsarouchis replies ... 
Sitting on his easel, he paints something and asks me to "prepare" a cardboard for him, painting it with the color of the black background. He would make the poster for the show "Seven on Thebes" afterwards.
By black background we mean a color made of black, coarse red, ocher and a little white, in a certain proportion and density to give the impression of dark space. He explains to me that there are infinite cardboards, so I do the test on different cardboards, otherwise the color would be inappropriately dense, without transparency. 
I paint the first card, he sees it and tells me "put more ocher in the next". He sees the second; "that needs more black". The next more glue, the other more water, and so on…On the seventeenth cardboard, I pass the paint and I am in front of the opening of a door, where the exterior wall is illuminated but the space inside the house is dark! 
I am excited to see, not a color, but a space. I look at Tsarouchis, he has also turned around and simply says: "Hm, that is! this is what we were looking for.This is right..."
I remember the incident so many years later because it shows the passion for accuracy that one should have in order to be able to express oneself... 
He studied in depth everything he did, with an incredible insight and an equally incredible patience. In the Benaki Museum I saw his notes on folk costumes: a huge volume of sketches, notes, color tests ...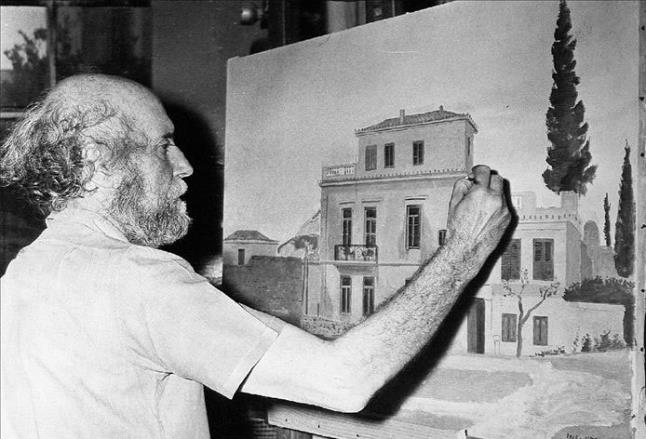 He read fast, almost in a flash, understood the essentials and could talk about the Ancients better than ten philologists or archaeologists together... 
On the train to Paris, early in the morning, he gives me a book telling me, "Look at me." (I do not understand so he explains to me) - "Look at the text and see if I make any (and how many) mistakes as I recite".  After four pages he makes a mistake! He looks happy. I ask him: - Why are you doing this, teacher? – "Memory exercises", he answers me. "I want to delay dementia..."
I listen as he sings "mantinades" (traditional musical declamations of Crete) with Alexis Savakis. In the verse: "... I want you to love me", he stops singing, immerses himself in thoughts, staying like this for a while, cut off from the environment. I saw him "sink" in the same way as once, when in a conversation he passionately said: "I, who in my whole life chased the beauty..."  From such moments you could suspect his pain... 
Theatre on Kaplanon Street. Performance of the "Trojans". Every night the audience calls him at the end for the applause. He is absent… In some performances we suddenly see him crossing the square with fast steps and heading to the stage. The audience applauds. He gestures to stop, stands in the centre of the stage and says: 
"Now they've just informed me that Maria Callas has died. This reminds us that we are all mortal. I call on you to keep a minute's silence in her memory". We are all standing. We are silent for a minute, two minutes, three minutes. Tsarouchis is lost in his thoughts, he stands there paying attention and mourning his friend, having lost all contact with the others...
In a restaurant in Maroussi we eat close to the television that shows the play "Oedipus at Colonus" directed by Alexis Minotis. At some moments Tsarouchis gives a look ... Towards the end, when the death of Oedipus is announced and his daughters mourn him, Tsarouchis fixes his gaze while his fork is hovering. We hear him saying: "Well, have they never been to a funeral?" 
As he has said, he was a "great actor"… I think it was his way of "understanding" the world and expressing his relationship with the world and the entities: he was trying to become what he was talking about. 
Towards the end he often overdid the old man, a decent old man, sometimes even to the point of exaggeration: you could see him heading for the easel with slow, slippery steps, as if he was about to be torn apart by the toil of old age.
 
By and large he was sitting in the chair in front of the easel, resting one foot on the base of the easel and suddenly being transformed into a teenager, an athlete! Within seconds, the decaying old man was gaining energy as if he was putting himself in an invisible socket...
In the context of his "acting", in the role of the "revered", we saw him crossing the room slowly - hierarchically and (with a spark in his eyes and a suspicion of a smile) to bless us as an Archbishop...
At the train station to Paris (known to avoid the plane) we had to run long enough to get the right train. He urges us to run and we actually see him running holding a small suitcase. 
It's summer and he's wearing sandals which he had made himself with leather – same with those of the Ancients, as he said. We catch the train, we are comfortable now and he tells us: "Look, I think I am bleeding…". We look at his feet: bruised - he had been betrayed by his improvised construction, but his passion for life and creation never betrayed him". 
More biographical information can be found at: https://tsarouchis.gr/el/, the website of Tsarouchis Foundation.
#HISstory