A leading female personality of the 19th century, a leading figure of the Greek revolution; dynamic, brave and heroic, she gave her soul in a sacred battle against the Ottomans.  
 
By Mia Kollia 
Translated by Alexandros Theodoropoulos
Laskarina Bouboulina was from Spetses, with origin from Hydra too. She saw the light of day for the first time in the prison of Istanbul, when her mother, Skevo Pinotsi, had gone to visit her sick husband, Stavrianos Pinotsis, who was imprisoned there due to his involvement in the Orlov Revolt. Her parents were shipowners. It was May 11, 1771. 
Her first husband was Captain Dimitrios Giannouzas from Spetses, who was killed in 1797 by Algerian pirates. Bouboulina was 26 years old at the time, mother of two boys and a girl.
Four years later, when her mother married Dimitrios Lazarou Orloff, they moved to Spetses. In 1801, Bouboulina married ship owner Dimitrios Bouboulis from Spetses and also had three children with him; two daughters and a son.  
After Bouboulis was killed by Algerian pirates in 1811, Bouboulina inherited her husband's great fortune and managed to increase it as she became engaged in his business, trade and ships.  
In 1816 her property was threatened with confiscation by the Ottomans, because her husband's ships had taken part under the Russian flag in the Russo-Turkish war of 1806. But she didn't hesitate and went to Istanbul asking for help from philhellene Russian ambassador Strogonov and the mother of Sultan Valide who persuaded her son to sign a decree not to bother her. In this way she managed to save her property.  
When the Greek War of Independence broke out in 1821, Laskarina was 50 years old. She organised her own fleet with sailors from Spetses, whom she supported financially for years while continuing to finance the fight, resulting in having her property spent in just two years.  
With her "brave young men", as she called them, she participated in the battle of Tripolitsa, in the blockade of Monemvasia and was head of the first siege of Nafplio in April 1821, on her ship, "Agamemnon", the construction of which she had funded herself. "Agamemnon" was the most glorious ship of the time. It had 18 cannons and was almost 34 meters long. In this corvette the brave captain raised her own banner, an eagle with an anchor and a palm tree.  
In the battle of Argos she fought together with her eldest son who was beheaded by the Ottomans. When trying to find his body, Bouboulina killed three Turks and when she saw her child's headless body she covered it with her handkerchief. 
After the Greeks occupied Nafplio, Bouboulina settled there after she was rewarded by the city government in recognition of her struggle for the nation. The civil war followed. The government of Koundouriotis throws Theodoros Kolokotronis in prison, in Hydra. Bouboulina is on his side and demands his release.
Because of her reaction and behaviour, she loses many privileges the government had given her. She was arrested twice and exiled to Spetses.
She was admired overseas for her courage and determination. "Dressed as a woman and armed as a man," was the description by Ioannis Philemon, a journalist, historian and publisher of the newspaper "Aion".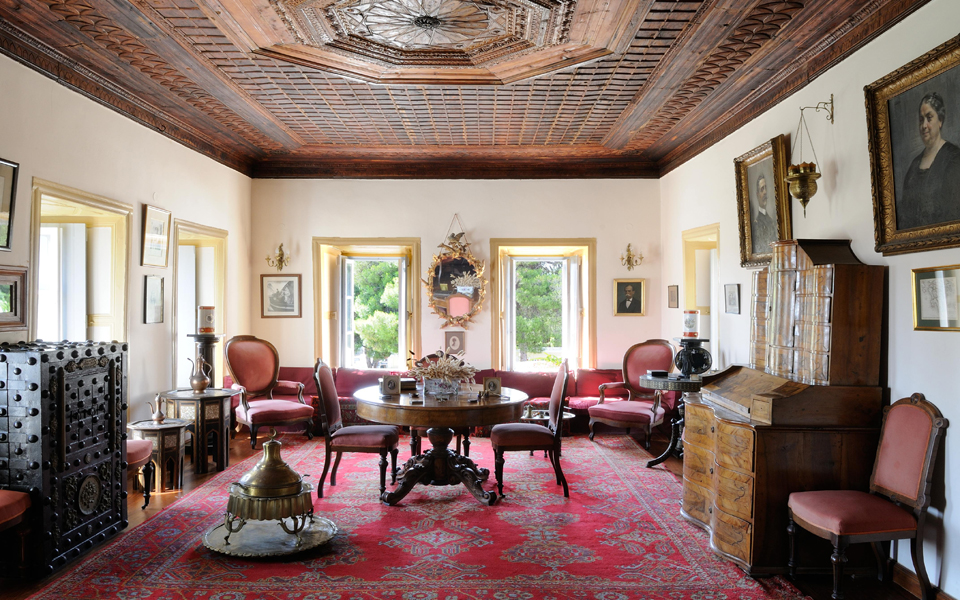 In 1825, her youngest son, George, fell in love with Evgenia Koutsi and they stole away. Koutsi's family - a well-known family on the island – didn't want this wedding to take place at all, because Evgenia's half-brother was married to one of her sisters. Bouboulina herself defended her son's choice and was killed by a bullet of one of Evgenia's relatives. 
Russia was the first to award her the title of Admiral.
193 years after her death, she was awarded the rank of Vice Admiral by honorary decree, as well as the First Class War Cross and the Medal of Excellence, for "her unparalleled heroism, self-sacrifice and devotion to the Greek Nation, which made her a national icon in the memory of all Greeks". 
From 1801 to 1825 Bouboulina lived in Boubouli Mansion in Spetses. Inside this magnificent listed building, there is now a museum where visitors can see her personal belongings, her 200-year-old headscarf that preserve her colours to date, her sword - a gift from Tsar Alexander I, personal handwritten documents and her safe. 
 
#HerStory