"Greatness is not measured by the acre but by the fire of the heart and the blood."
 
By Mia Kollia
Translated by Alexandros Theodoropoulos
Kostis Palamas was one of the most important Greek poets in the history of Greek literature, but also a novelist, playwright, historian and literary critic, who contributed significantly to the development and renewal of modern Greek poetry. Greece dominates his poetic work and he's considered our second "national poet" after Dionysios Solomos. 
Palamas was born in Patras on January 13, 1859, coming from an old Messolonghi family of national fighters. At the age of seven he became an orphan and went to live in Messolonghi with his uncle. He remained there until 1875, when he left for Athens and enrolled in the Law School. But he quickly realised that poetry was his own path and dropped out of his studies to devote himself wholeheartedly to it. Besides, he used to write lyrics from the age of nine.
In 1879 he started working as a journalist in newspapers and in 1886 he published his first collection of poetry entitled "Songs of my Homeland" (Tragoudia tis Patridos mou). He was particularly concerned with the Greek Language Issue and was an ardent supporter of dimotiki language (Demotic Greek) along with Drosinis, Polemis and other poets of the New Athenian School.
In 1887 he married Maria Valvi, a descendant of a political family from Messolonghi, with whom he had three children, Leandros, Nafsika and Alkis. In October 1897, Palamas was appointed secretary of the University of Athens, in honour of his poetic work. It is said that when Palamas appeared to take office, the then strict rector of the University, Alkiviadis Krassas, said to him: "Mr. Palamas, I hope that now that you have a decent position, you will stop writing poems" - which fortunately didn't happen.
 
At the same time as his appointment, Palamas published the collection "Iamvoi kai Anapaistoi", which is considered a milestone in his work, with developed personal style and maturity being evident in his writing. However, the death of his youngest son Alkis from an unknown disease, just at the age of 4, crushed him. He then wrote "The Grave" (O Tafos, 1898), a deeply lyrical poetry collection dedicated to his deceased son.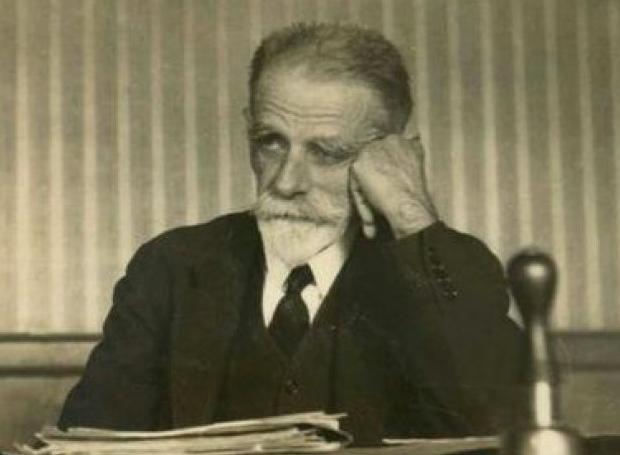 From 1900 to 1931, Palamas published his most important poetic works and his two great compositions, "Twelve Lays of the Gypsy" and "The King's Flute", which made him a prominent figure of the literary community.
In 1918, he was awarded the National Excellence in Letters and Arts and from 1926 he was a key member of the Academy of Athens and president in 1930, while he was nominated 14 times for the Nobel Prize in Literature. 
For most of his life, Palamas lived at his house at 3 Asklipiou Street, except for his forced relocation, after eviction, at 5 Periandrou Street in Plaka. Today, the Kostis Palamas Foundation is housed on Asklipiou Street, while his house on Periandrou Street has been designated as a historical monument. 
Kostis Palamas who according to Theotokas was "the poet who covered with his shadow half a century of our intellectual and spiritual history", died on February 27, 1943, at the age of 84. The news of the great poet's death circulated with lightning speed in Nazi-occupied Athens. 
"Last night incomprehensible news came to us; inconceivable news. An old Kostis Palamas passed away. We had forgotten that he was mortal", Ioanna Tsatsou wrote in her personal diary.  
The funeral of Kostis Palamas became a historic event, as the First Cemetery of Athens was flooded with people who went there to say goodbye to the great poet but also to express their rebellious anti-occupation feelings. "Greece rests on this coffin", said the renowned poet Angelos Sikelianos and recited the poem "Palamas", which he had written in his honour.  
#HisStory