Christina Flampouri is a great paragon of woman and athlete. She changed her life by conquering the summits of the world, never lost her characteristic sweetness and combined it with stubbornness, courage and persistence.   
By Mia Kollia
Translated by Alexandros Theodoropoulos
Christina Flampouri is a Sales Manager in a large multinational company and at the same time an alpinist. She is the first Greek woman to reach the top of Mount Everest and the only Greek woman among the 70 women who have managed to climb to the highest peak of each continent, completing the 7 Summits Project. Another outstanding fact about her is that she is the first and only Greek to have conquered 2 peaks over 8,000 meters in a single mission.  
 
"The most important thing when I was thinking about what job I wanted to do was to have communication and be close to people."
I have been working for Papastratos for 11 years in the marketing department and now in the sales department. I have studied physics, nothing to do with the work I do now or with mountaineering. With so many different and conflicting roles it was very difficult for people and especially those around me to accept it; it's so hard that in this sector I'm not 100% successful yet. 
"The first thing I had to conquer as a woman was to convince myself that I was a climber without being a climber's girlfriend or a climber's daughter". 
That doesn't happen in other countries because there are many renowned athletes in this field. Until I was 24, I was a typical good child, a good student with a relatively smooth adolescence. Everything was just fine. I joined the multinational company Papastratos when I was very young, at the age of 23, and I soon realised that I couldn't manage my stress. I was experiencing psychosomatic symptoms, trying to prove that even though I was young, I was capable of the position I had taken.
"The day that changed my life".
At one point a cousin told me that he had booked a climbing trip for me. That day changed my whole life. I was very scared and in the end I didn't manage to complete any route. For the next few days all I could think about was that I didn't try hard enough. After hard efforts, I realised that fear was only in my mind and to overcome it I started climbing lessons. Every time, in every difficulty, I felt that my limits expanded even more. This enchanted me in the mountains. 
"In mountaineering, the most important thing is that you understand how strong you are when you have no other choice. Then, you apply that feeling in life as well".
When you are at 8000 m., you have no choice but to think of something else or say that you cannot reach the top. After that, you learn to put it into practice in your life as well. I started to stand differently as a human being, to speak differently, to pursue things differently and to negotiate differently. Mountains make me stronger in all my relationships, even the personal ones. I claim what I think I deserve.
 
"The mind is always the matter".
I gradually started training in Parnitha. Then I climbed Mount Olympus and continued higher and higher, from one peak to the next. At first I struggled with both technique and fitness, as well as fear. My body was not ready for such stress. The body in general, with proper training, nutrition and the assistance of experts, can be transformed and reach the goal. The real issue is the mind, since practically at some point at a high peak the body will leave you because you will have exceeded your limits. At that point, your heart and mind can keep you up.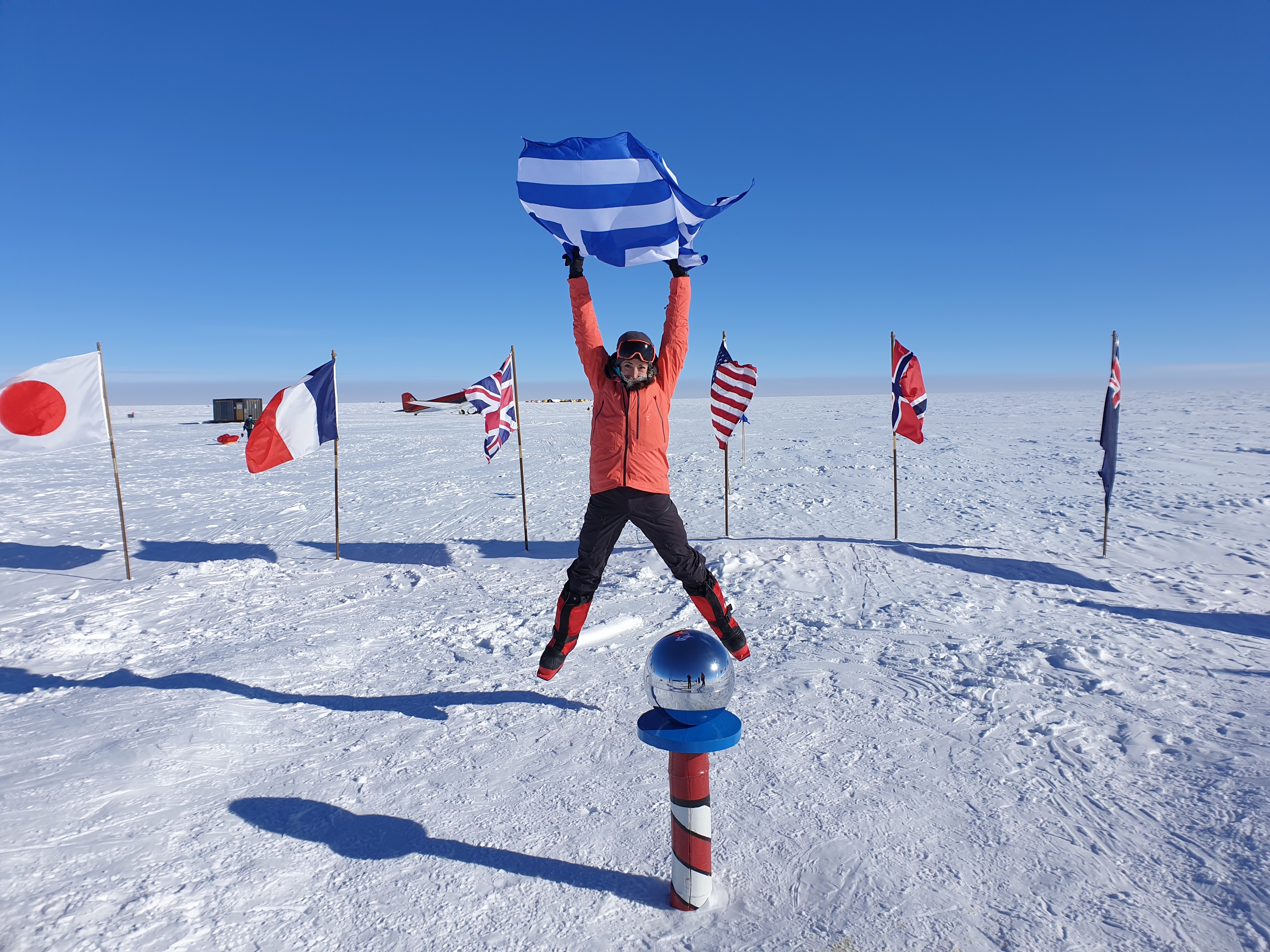 "No matter how high I go, I never stop learning."
I went to a special school in the Alps to learn crevasse techniques - how do you deal with the ravines created by glaciers. When I went to the highest peak in Alaska, I knew I would fall into a crevasse. Even climbers who have been climbing for 30 years are constantly learning and being updated because everything changes rapidly, even the technologies of the accessories they carry with them. 
You have to be the best version of yourself and have a strong heart and lungs. Truth is that most healthy people can do it if they want to. But you should also be able to endure hardships, not for a day or two, like athletes running or playing a football match. You need to be away from home for a month and a half, not sleeping in bed, living in extreme temperatures with low oxygen and things like that. In low oxygen conditions the body gets sick - you can have constant fever and palpitations.
"This hardship is worth every minute."
I feel safe inside my tent and let it blow from outside, even if it is frosty. The mountain taught me to appreciate every minute. When I returned from Antarctica I felt happy just to be able to turn on the tap and drink a glass of water.
"A successful mission is accomplished after you've reached the peak and have returned to the ground." 
The first major peak for me was Mount Everest. I was fortunate enough and honored to be the first woman to open the Greek flag there. It was a very difficult day for me, I had lost my sight in one eye for several hours - I only saw colors without limits.
When I raised my eyes to the top of the world, for a second I was ready to buckle and cry or shout for joy, but I couldn't do it because I knew at that moment that I wasn't done. The most difficult part is the descent, so you should not be left alone. The mission is completed after the descent.
When I opened the flag for a few seconds I was the only person standing at the highest point of the world. I felt omnipotent and at the same time so weak! I felt like a god and like an ant at the same time. There, in the "death zone", as we call it, the body is completely weak. I had a hard time when going down, because the goal was accomplished so my mind was empty.  
The seven summits
The second very important moment for me was the completion of the Seven Summits. The last day was very difficult, I had tried the previous day to reach the top and I hadn't succeeded. The time was up and I knew I had to fight hard because there was no way I could find so much money to do this mission.
By the time I reached the top I was alone. But all the people who helped me along the way passed in front of my eyes: Anestis who sent me the weather report every day, Olga who helped me in training and procedures and all my coaches. 
"Give back what you get."
From the moment I announced that I was going for the seven summits, people I didn't know stood by me. Then I realised how important it is to have a strong team and people to help you. Since then, I felt that I should also help others as much as I can in my daily life; to always return back what I got. That's why I wrote a book for young children, to empower them as much as I can.
Inspired by the mountains and the 7 Summits project, Christina shares her passion, organising and participating in activities that motivate more and more people to follow their dreams, no matter how big they seem. She is a Motivational Speaker at corporate events, sports clubs and schools and recently wrote her story in a book ("At the 7 summits" by Patakis publishers).  
 
#HerStory