Today's work environment requires man to come to the fore.
Inspired by Kaizen Gaming
Nowadays, companies need more than ever to find ways to create a work environment where employees feel confident and fulfilled, whether they work physically or remotely.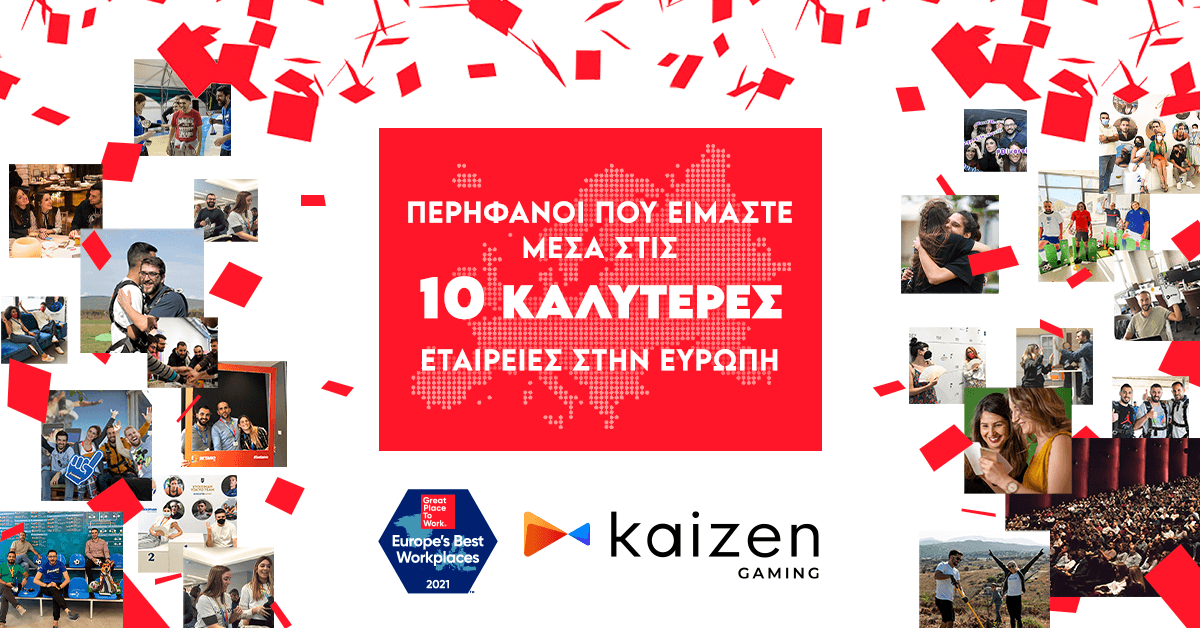 The chronic fatigue from the pandemic, the anxiety that still exists and the new distance working conditions make it necessary to change the behavior of employers and proceed to the implementation of many different methods for the mental and emotional support of people.  
The Award-winning Kaizen Gaming
In the field of working environment there's great news for our country. Kaizen Gaming is in the Top 10 companies with the Best Work Environment in Europe! This distinction is won by companies that know well what a satisfied employee means and especially how to achieve it. With respect and consistent attitude towards its staff, the largest GameTech company in Greece reached 9th place in the category Best Large Workplaces in Europe (with 500+ employees). 
The European Best Workplaces 2021 list, which includes the 150 best European companies of the year, consists of 25 multinational companies, 25 small companies with 10-49 employees, 50 medium companies with 50-499 employees and 50 large companies with more than 500 employees.
Why Kaizen Gaming puts man at the forefront
 
In the context of the distinction, Kaizen Gaming (Stoiximan | Betano) achieved one of the highest scores in the section related to the acknowledgement of its employees, with the members of the company stating at 97.73% that "everyone without exception has the opportunity to be acknowledged ". The company, faithful to its commitment to evolve with people as protagonists, is constantly growing inside and outside the Greek borders, employing more than 1,000 employees in the 7 countries where it operates. 
 
In a statement, HR Director of Kaizen Gaming, Alexandra Loi said: "We are very happy for this distinction and we thank from the bottom of our hearts our people, who gave us another proud moment, the recognition of Kaizen Gaming as one of the model companies in Europe with one of the best working environments. We remain true to our values ​​for continuous improvement and teamwork, ensuring the development of Kaizeners and our company, while at the same time we are committed to continue with the same passion and dedication to offer our people the skills and opportunities they need to grow in an excellent working environment!".  
 
In the new leadership and work era that comes ahead of us, it is necessary to apply long-term innovative holistic approaches, based on international best practices, which support employees at all levels - physically, mentally and intellectually. Numerous studies prove that mindfulness practice is extremely effective. "This is an approach that supports employees holistically, with care for efficiency but also for mental health, emotional health and balance," explains Myrto Legaki, MBA Certified Mindfulness Instructor | Mindful Leadership & Corporate Wellbeing Consultant.
 
Mindfulness: Increasing efficiency starts with mental balance
 
"With mindfulness training, immediate regulation of the nervous system and a sense of inner calm and stability is achieved, regardless of external conditions", says Myrto Legaki. We are moving towards a more humane and compassionate leadership model, what we call mindful leadership. Research has shown that one of the most important leadership skills in times of uncertainty and difficulty is empathy and emotional intelligence. When these skills are cultivated through mindfulness, communication and collaboration are improved, while employee satisfaction is enhanced.
 
Ideas and suggestions
Following international research, we have identified data and practices from companies that have found that happy, healthy and dedicated employees are the basis of their successful development.
- The positive aura seems to lead: meals full of joy and fun, events and special programs for employees are their daily routine. Also, a good company makes sure that the places where the breaks take place are very clean and if an employee doesn't take a break, they will oblige him to do it themselves. This philosophy lies above all in the development and consolidation of employee relations, thus resulting in the creation of a small community.
- Rooftop meetings with a view of the sky, friendly partners and team spirit characterise the atmosphere of the new era, while frequent praises mobilise the staff even more towards the goals of the company. Employees will often say how much they like the fact that they have smart and dedicated partners.
- A modern company has to take care of its employees by offering health and fitness programs, internally or in collaboration with others, even providing membership cards in health-clubs that include anything from nutrition programs to massage and personal training. 
- "Flat, open and creative organisation"; where there are few (or no) levels of management between employees and executives. This approach is most common in startups.
- An ideal situation is that the executives work in open spaces, next to the staff. This is a conscious effort of flat organisation, at least by using the spaces for it, reinforcing the feeling of equality and democracy among the members of the group. 
- Strong benefits and privileges, including full health insurance, vacation flexibility, nice workplaces, delicious meals and full refrigerators, monthly celebrations, rest areas and periodic guest speakers.
- The open presentations of executives who generously share their knowledge, even the dog-friendly environment are some of the advantages of a company that looks forward.
- The season provides activities in nature but also the equipment - we must promote an essential love for the environment. A company that truly believes that its employees give "life to its purpose", acknowledges and appreciates that they are an integral part of its success, thus, it reciprocates.   
- Meetings where employees can ask anonymous questions or provide comments that will help managers better understand what is happening inside the company and improve its operation. In fact, the involvement in the activities of a company and the actual proof that someone "has a voice", raises the level of corporate culture to another dimension.
Ultimately, managers need to act more as coaches (guides) that allow staff to set goals and define how they will be achieved. Continuous staff training and growth potential have been confirmed to increase performance. Trust in employees creates independent personalities, who contribute the most to the development of a company.