Yannis Ritsos, one of the greatest Greek poets of all time, with international fame and influence, fought from a very young age for everything he believed to be right in a life full of difficulties but also very rich.
 
By Mia Kollia
Translated by Alexandros Theodoropoulos
He was born in Monemvasia on May 1, 1909, son to landowner Eleftherios Ritsos and Eleftheria Vouzounara. From an early age he seemed to have a strong interest in the arts, as he quickly began painting and learning the piano, while he wrote verses from the age of seven. 
In 1919 he graduated from the School of Monemvasia and went to High School in Gythio. In 1924 he published his first poems in "Diaplasi Ton Paidon" under the pseudonym "Ideal Vision (Idanikon Orama)" and the following year he settled in Athens with his sister Lula. After his father's financial losses, Ritsos did many different jobs to make a living – among others, he worked as an actor, dancer, proofreader and typist.
In February 1927, Ritsos was hospitalised at Sotiria Hospital with tuberculosis, a disease from which his mother and brother had died earlier. There, he met poet Maria Polydouri and during the three years of his hospitalisation, he found solace in the love of both of them for poetry.  
Sostir Ritsos
From the autumn of 1930 and for a year he lived in Chania, initially in the Tuberculosis Asylum of Kapsalona, but after he reported in a local newspaper the miserable conditions that existed there, he was transferred with all the inmates to the sanatorium of Agios Ioannis.
The following year he returned to Athens and took over the direction of the artistic department of the Labor Club, where he directed and participated in performances. His health gradually improved and in 1933 he collaborated with the leftist magazine "Protoporoi" while for four years he worked as an actor in various troupes. 
In 1934, Ritsos started writing articles for "Rizospastis" newspaper and published his first poetry collection entitled "Tractor" under the pseudonym Sostir (anagram of his surname). In the same year, he became a member of the Greek Communist party (KKE), to which he remained faithful until his death. In 1935, he published his second collection of poetry entitled "Pyramids" and was hired as a text editor at Govostis Publications. 
On May 9, 1936, in Thessaloniki, during the great tobacco strike, bloody incidents took place as the strike was brutally dissolved. The next day, Ritsos saw in the front page of "Rizospastis" the photo of a mother mourning her dead child and was inspired to write his landmark and one of the most well-known poems, the "Epitaph (Epitaphios)".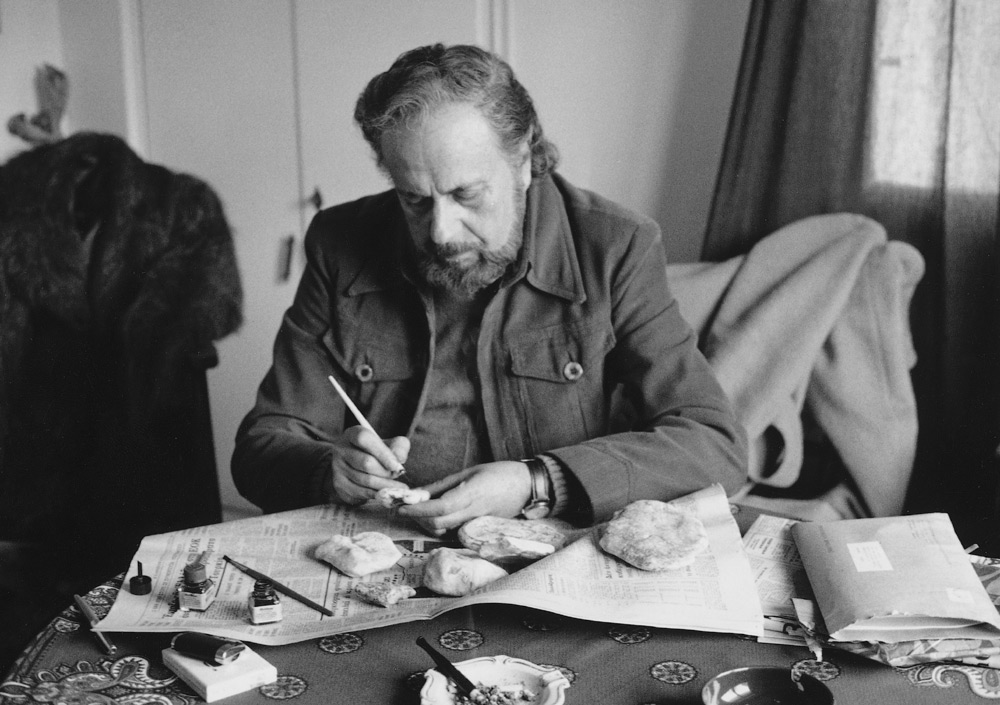 During the Nazi Occupation, Ritsos, although bedridden, participated in the activities of the educational department of EAM (National Liberation Front) and refused to accept money from a fundraiser, when in 1942 his life was endangered by extreme health problems and suffering.
In 1945 he wrote "Romiosini", another of his popular poems which was set to music in 1966 by Mikis Theodorakis. In 1948, he was exiled due to his leftist activities in Lemnos, the following year in Makronisos and in 1950-1951 in Ai Stratis. In 1952 he returned to Athens and became a member of EDA, while two years later he married pediatrician Filitsa Georgiadou from Samos, with whom he had a daughter, Eri.
Exile and back to life
After the military coup of the Colonels in 1967, Ritsos was exiled again, this time to Gyaros and Leros and in 1968 to Samos, where he was placed under confinement at his wife's house for health reasons. In 1970 he returned to Athens, but after his refusal to compromise with the regime of the junta he was exiled again to Samos until the end of the year, when he went for surgery at the General Clinic of Athens. In 1973 he participated in the events of the Athens Polytechnic Uprising. 
The first years after the restoration of democracy (Metapolitefsi) were years of great recognition for the poet, who won several awards and distinctions. In 1977, he won the highest distinction of the socialist countries: the Lenin Peace Prize, which he received being emotionally overwhelmed. He was nominated more than twice for the Nobel Prize in Literature - he was said to have missed it for political reasons, as the Swedish Academy often served political agendas. 
The poetry of Yannis Ritsos was influenced both by his experiences and by the social unrest of the country. The whole history of the 20th century can be read through his writings. More than a hundred collections of poetry and compositions, nine short stories, four plays, as well as studies for other artists, constitute the main body of his work. Numerous translations, vignettes and other valuable publications complete the profile of an inexhaustible creator. 
Yannis Ritsos passed away on November 11, 1990, but his legendary works like "Moonlight Sonata", "Romiosini", "Epitaphios" and "A Dream of Summer Noon" will remain forever written in our collective memory.
#Feature