Dimitris Trichopoulos was always on top, constantly researching. As a result, he made crucial discoveries and was honoured internationally in the field of Medicine. Leading Greek pulmonologist and intensive care specialist, Anastasia Kotanidou, praises Dimitris Trichopoulos for being a role model as a scientist. 
 
#medicine #science #research
By Mia Kollia
Translated by Alexandros Theodoropoulos
Dimitris Trichopoulos was one of the most important doctors and academics in Greece. He was born in Volos, in 1938 and grew up there until he was 16-17 years old, when, on the one hand, due to the earthquakes and on the other hand due to the need to prepare for the university exams, he moved to Athens. 
His father was of Asian Minor descent and his mother was from Egypt. Medicine was a family tradition for Dimitris Trichopoulos. His father was a surgeon, but since he didn't consider himself talented in Surgery, he turned to Pathology. In 1963, he finished Medicine School and started his specialty in Pathology which he never completed as he was won over by the Preventive Medicine and Epidemiology, where he stayed focused for more than 40 years. 
In 1972, Dimitris Trichopoulos became a professor of Medicine in Athens, active in education and research, while in 1989 he became a professor at Harvard, Massachusetts. There, he headed the Department of Epidemiology as well as the Cancer Prevention Center in Boston.
In 1997 he was elected a member of the Academy of Athens and since then he spent his time in both Greece and the USA. The following year he became president and professor of epidemiology at Stockholm Karolinska Medical University.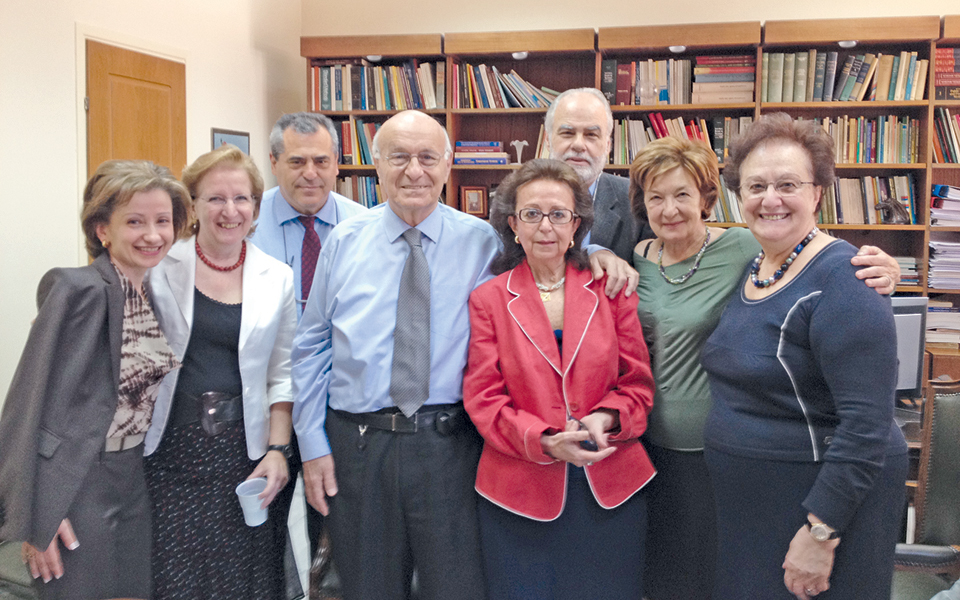 Discoveries of a bright mind and tireless researcher
Dimitris Trichopoulos's research focused on cancer and especially breast cancer. Together with his wife, Professor Antonia Trichopoulou, he contributed to the discovery of the role of secondhand smoke in the development of lung cancer, to the interpretation of the etiology of hepatocellular carcinoma and to the quantification of the association between psychological stress and coronary heart disease.
His extensive research, published in 2003 in the New England Journal of Medicine, confirmed that the Mediterranean diet prolongs life and protects against heart disease and cancer.
When asked in an interview if scientific research helped him as a human being, he replied: "Lesson one: Failure and success are alternate aspects of the same zone. Lesson two: Research taught me not to be practically competitive at all, because I actually was competitive when I was young. Lesson three: I do not care if I am more intelligent than my friend… but I am interested in whether I am more or less intelligent than my enemy. Lesson four: I realised the importance of rationalization".
As for why he had never been involved in the administration of a university, his answer clearly reflects his ethos: "I devoted myself to my work, teaching and researching. I thought I was good at these; these were my way to offer to my fellow human beings. I know my job well and I want to be good at my duties. I don't like the fragmentation of people. My ambition was to improve in my science and not to take many positions and receive honours. I love people who have passions, I care about them. I want people to have passions". 
Dimitris Trichopoulos has published over 900 scientific studies in specialised international journals, the findings of which were often among the first news on major international television networks. He was a corresponding member of the Royal Academy of Medicine of Belgium and the National Medical Academy of France and an honorary doctor of Uppsala University. 
He died on December 1, 2014 at "Evangelismos" hospital, where he was hospitalized after an acute ischemic stroke. The University of Athens made an announcement about his death which read: "He had been an outstanding professor, with a work of global recognition. He was a wise man". 
#feature