Costas Picadas is a visual artist and photographer that has the power to move us and erupt our feelings through the magic of life, the environment and the world of science, as presented through his unique and sensitive touch.   
By Mia Kollia
Translated by Alexandros Theodoropoulos
#photography #art #culture #nature #life #science
Costas Picadas specialises in visual photography and video art, trying to combine and explain the relationship between Art and Science - especially the science that deals with the human body and its functions. The works of Costas Picadas, a Greek artist who has lived and worked in New York since 1994, are widely recognised around the world. An exhibition in Thessaloniki with biophilic megalographies, entitled "Finding the ties between science and nature" has the power to fascinate and move the audience.  
- You connect art with life and when we talk about life, we talk about the process of physical existence; why and how do you make that connection?  
I also focus on nature, a subject of great interest to art today, which I render with the short lyrical videos I create, merging cellular images with nature scenes. The same hybrid object appears regularly in my paintings and drawings, in which cell forms, sometimes precise and sometimes raw, often emerge from the field of composition in the white frame that surrounds them. We live in an age of great ecological disasters worldwide. Our world is slowly but steadily distorted by human development, which transforms nature into a residential setting, dissolving its wild beauty.  
Although I live in a large urban center, through the lyric videos, I still want to show the way in which nature can persist, despite human invasion. In these works I move in the direction of pure emotion, which is structured by images of flowers, trees and water, in combination with the most special pictures of science. Especially regarding the cells, which give austerity to the picture of the outside world as I feel it.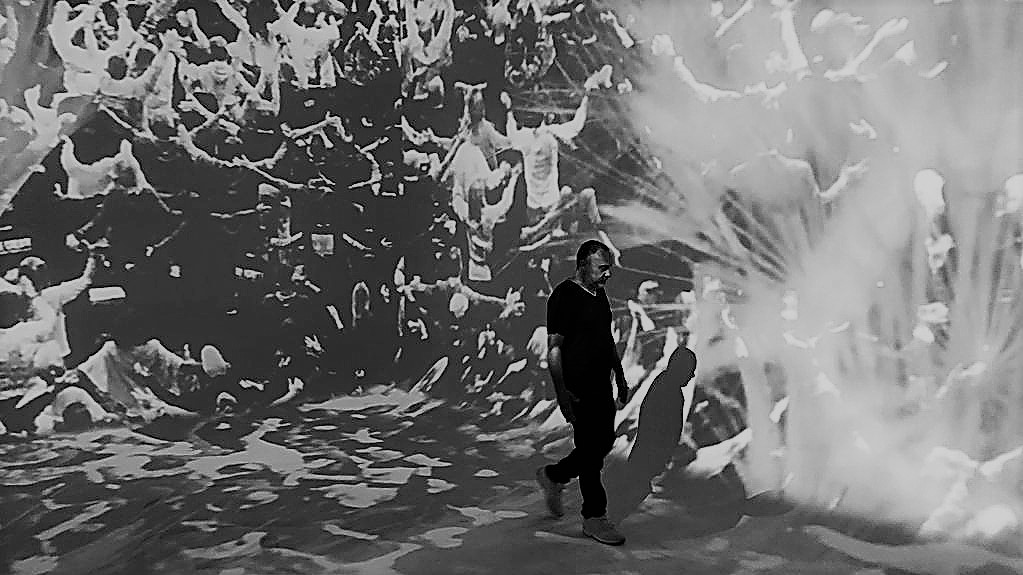 - Do you just express what you feel through your artwork, or do you take into consideration the viewers' reactions?
My whole effort is to create art that draws information from science. I believe that the creation of relationships between artists and scientists is necessary for the evolution of the symbiotic relationship that art has with man. It is also an important step in adapting art to a technological future.
Last year I was invited by the Immune department of Mount Sinai Hospital in New York, where I learned a lot from the scientists who were working there. I was lucky enough to be given microscopic images from their labs, which gave birth to my Biophilia photo series. Mount Sinai scientists and I wanted to surprise those who have no scientific knowledge by presenting their research through the lens of a camera.
- What have been the most difficult moments of your career and how did you deal with them?
I have been through many difficulties in my career and I've managed to overcome them with mental clarity and meditation.
- What does success mean for you and how can young people reach success? 
I am not interested in material success. If I can make the public aware, I consider that a success. 
- How much technology fits into your life and art? How much emotion can technology bare? 
My inspiration is to try to create art that draws information from science. Technology is a great tool but it isn't knowledge. I like to use new technologies like projections and lighting installation. Currently we're planning to make an exhibition and a big projection in the old Mill of Thessaloniki.
What do you love about the US and what are your daily habits?
I like the open-mindedness of people and the potential that this state of mind has. My favourite habits are yoga and meditation.  
- What do you think are the advantages of Greek people and what are the disadvantages of Greece in general?
Greeks have a wonderful DNA and live in a place that can inspire you deeply. On the other hand, history has shown us that many times Greeks operate self-destructively, with actions associated with jealousy as well as materialistic or disorienting thoughts.
- Are there any limits to art?
The beauty of art is that it doesn't have any limits at all. 
Who is Costas Picadas
Costas Picadas was born in Ioannina and studied art at the Ecole Des Beaux-Arts and art history at the Ecole du Louvre in Paris. His work has been exhibited, among others, at the Queens Museum at Bulova Corporate Center, NY, at Budman Gallery NY, at Denise Bibro Gallery NY, at The Blender Gallery in Athens, at Gallery Gransart in Paris, at Mykonos Biennale, Greece, at The Young Art Fair, Switzerland , at the Gallery J&J Donguy, Paris, at Some Young New Yorkers III, PS1, NY, at Kappatos Gallery, Αthens, at the Galerie de Buci, Paris, at the Galerie Anatole of Chartre, France, at the Gallery de Nest Paris, at the Salon de Montrouge in Paris, at W.G. Amsterdam, Netherlands and at the Avignon Festival in France. Articles, reviews and critical analysis of his work appear in catalogs of individual and group exhibitions, as well as in newspapers and magazines in France, Greece and New York (Zing Magazine, Absolute Arts, New York Spaces Magazine and Flash Art). He has lived and worked in New York since 1994.
 
#HisStory