Stelios Kyriakides is a global phenomenon in the history of sports and more specifically of the Marathon. He was a role model, a model of humanity, strong will, physical and mental endurance. 
 
By Mia Kollia
Translated by Alexandros Theodoropoulos
Impactalk met his granddaughter, Maria Kontou, who excels in real estate with TTR Sotheby's International Realty in Washington, D.C., and she recorded in her own words the unthinkable story of a man who ran to help Greece when its people were hungry, a man who exceeded human limits with perseverance and faith as his only weapons, a man who honored the jersey to the end. 
What do you consider the strongest characteristics of your grandfather Stelios Kyriakides?
He was always low key, that's very basic, and he never changed, even though he won. He was always very patient and always listened humbly to his coach - he realised that he had to follow the right advice. Otto Simichek, the national track and field coach for 40 years, said he had never seen an athlete so obedient.
My grandfather was a very modest man. They gave him gifts and cars and he used a bicycle. He refused to lead his whole life. There was nothing for him that could not be done. Every dream would come true, every challenge would be won, every obstacle would be overcome; with perseverance, courage, dedication to the purpose and with the aim of helping man.
How did Stelios Kyriakides go overseas?
The story begins in Cyprus. At the age of 23 he decided to come to Greece to be trained properly. He lived in a small room under the stands at the Panathenaic Stadium. Simichek then took over. In 1936 he represented Greece at the Berlin Olympics together with Spyros Louis. Spyros Louis appeared at the parade and gave Hitler an olive branch, which symbolises peace. How could they know that Hitler would be later responsible for World War II?
In Berlin he met Jesse Owens and Johnny Kelley, the American champion who had won the Boston Marathon for five consecutive years before my grandfather won it. Kelley himself urged him to go to Boston. He made that choice two years later, in 1938. The voyage lasted one month and he trained by running on deck and going up and down stairs.
In Boston he was welcomed by Dimitrakopoulos, a very prominent Greek who also had hotels. He gave him room and food to get stronger. Seeing his torn shoes, he gave him a new pair of leather shoes with wooden heels as at that time they were still running in saddle shoes. This shoe had to be "broken" slowly to soften the skin, otherwise it would cause sores on the feet.
Unfortunately, Kyriakides didn't manage to finish the race. Feeling responsible and ashamed of the people who cared for him, he made an inner promise that the next time he runs the Boston Marathon he will be a winner.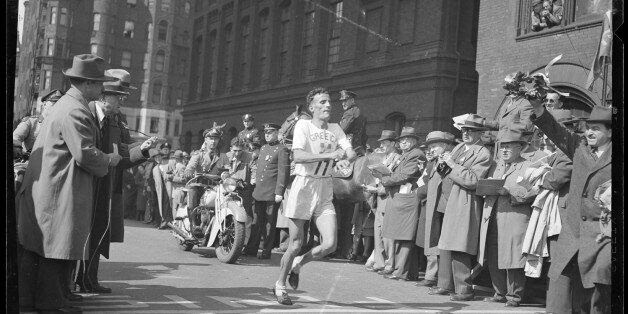 He returned to Greece and experienced the exhausting difficulties of the Nazi Occupation and the Civil War. His goal was always to win the Boston Marathon. So he sold furniture in his house to raise ticket money, said goodbye to his wife and two children, and became one of the oldest participants in the Marathon.
Thirty-six years old, too weak from hardships, without vitamins, without proper nutrition, doctors warned him that running would endanger his own life. Stelios Kyriakides signed a paper that he would run at his own risk. And he did it. At the end, the most important prize was not the gold medal.
For Kyriakides, the most moving moment was when he managed with his victory to make people aware of the hunger and hardships of the Greek people under the occupation.
He collected $250,000, an outrageous amount for the time, together with clothes, blankets, food and wheat provided by the US government and transported them to Greece with two Liberty boats of the Livanou family. This was called the "Kyriakides Package".
Twenty days after his victory, Truman asked to meet the weak Greek who managed to beat Johnny Kelley. When Truman asked Kelley how Kyriakides beat him, Kelley said: "I was running for myself, while he was running for seven million hungry Greeks." 
Truman, hearing the story of Stelios Kyriakides, mobilised and further strengthened the Marshall Plan, while the then Greek government awarded him the Golden Cross of the Order of the Phoenix for his contribution to the country. 
Works and Days
Kyriakides ran the Boston Marathon in 2:29:27. During this time he maintained the national performance record for 33 years and 216 days, which earned him a place in the Guinness Book.
He is the first marathoner to have been trained by correspondence with his trainer and to have used a hand timer to measure distances.
In 1952 the Municipality of Filothei granted him a space in which he built, at private expenses, the track of Filothei, of which he was president and bears his name.
He is regarded as the pioneer of children's sports in Greece.
His cups and medals have been donated by his family to the Marathon Road Museum in Marathon, Attica. 
The Boston Marathon Association states on its official website that he is the 1st Marathon Athlete in the world to run for charity. There is a permanent exhibition at the Massachusetts Sports Museum entitled "Stylianos Kyriakides - Running for Humanity".
In 2006, the City of Hopkinson, Massachusetts, unveiled a sculpture called "The Spirit of the Marathon" that depicts Stelios Kyriakides running with Spyros Louis at his side, showing him the way to victory. 
He passed away in 1987 at the age of 77, the same number as his jersey.
His granddaughter, Maria, has written the book "Stelios Kyriakides, The Man who ran for an entire country", published by Kastaniotis. 
#HisStory