Alexandros Papadiamantis was one of the most influential writers of modern Greek literature, a poet, a translator and according to Milan Kundera, the most significant Greek novelist.  
 
#writer #literature #novelist 
By Mia Kollia
Translated by Alexandros Theodoropoulos
Alexandros Papadiamantis was born in Skiathos on March 4, 1851. His father, Adamantios Emmanouil, was a priest and his mother, Angeliki Moraiti, came from a noble family of Mystras, who went to Skiathos in the 18th century.
Alexandros grew up in an environment full of reverence and religiosity. He learned the first letters in his homeland and in Skopelos, then attended the high school of Chalkida and completed his high school studies in Athens through extreme hardships, since his family was facing financial problems. In 1874 he enrolled in the Faculty of Philosophy of the University of Athens, but eventually he never graduated.  
Papadiamantis lived a simple and quiet life. He was usually unshaven and with worn clothes. He often went to the church of Agios Elisaios in Monastiraki and ate with his cousin Alexandros Moraitidis. He didn't have many friends. Poet Miltiadis Malakasis and writer Giannis Vlachogiannis were two of his closest friends. He was a lonely man and frequented the cafe in the Kolonaki Reservoir, where he used to sit alone and drink his coffee. 
His financial situation was always his weak point. When he got his salary from work, he paid the rent, his debts to the restaurant where he used to eat, sent some money to his family in Skiathos and gave money to the poor, so he always lived without being able to buy even the basic goods. 
Indicative of his relationship with money is an incident reported by Pavlos Nirvanas: when Papadiamantis started his collaboration with the newspaper "To Asty", the chief editor offered him a salary of 150 drachmas. Papadiamantis's answer was: "One hundred and fifty is a lot of money. One hundred could do for me ".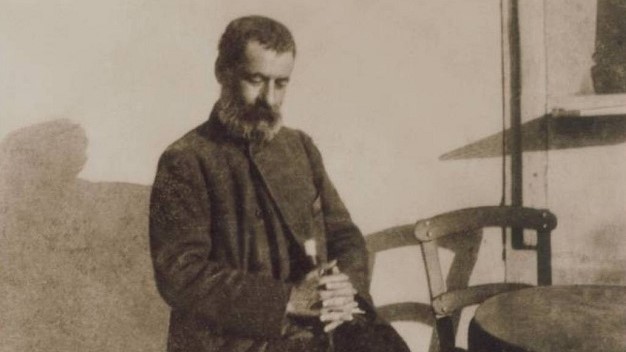 Papadiamantis started collaborating with newspapers and magazines at a very young age. He learned English and French on his own and published mainly translations of literary works. At the same time, he started his own literary work.
In the early days he wrote poetry and historical novels, such as "The Merchants of Nations" (1883) and "The Gypsy Girl" (1884), but he quickly found what inspired him most: writing novels. "Choleriasmeni", "Pentarfanos", "The Dead Traveler", "The Murderess", "Witches" and "The Nostalgic", are some of his most well-known. In fact, "The Murderess" is considered to be his all-time masterpiece, as it belongs to the works of his advanced and mature writing of a realistic period and encloses in it the most valuable and timeless elements of his art. 
In his writings, Alexandros Papadiamantis always carried with him the small society of his island, Skiathos, which he loved so much. He used to describe ordinary, everyday people. The main theme of his works was the customs, superstitions and the misery of people in the countryside. His heroes were usually fishermen, farmers, church people and frustrated women.
His work is dominated by nature. Papadiamantis describes nature so vividly that when you read, you think you are part of the scene he describes. As a narrator, he seems to take a distance from what is happening in the story, since he uses the third person, while in his world symbolism coexists harmoniously with reality. 
Papadiamantis's work was considered by some people as outdated and attached to the Orthodox Church, as a consequence of all of his stories written in Katharevousa (conservative form of the Greek language). Only the dialogues in his works were in the vernacular language (dimotiki). However, many writers, including Palamas, Porfyras and Cavafy, praised his work and his ability to combine Katharevousa with idioms of Skiathos.
The "monk" of Greek literature wrote three books, three novels and over 180 short stories. However, none of his works was published as a book while he was alive. 
Alexandros Papadiamantis spent most of his life in Athens and when he realised that his death was coming, he escaped to his beloved Skiathos, where he died of pneumonia in the early hours of January 3, 1911. 
#feature