"Spondi" means offering a drink in honor of the gods for the ratification of an agreement. We pay attention to the "offer" and discover the man who identified his name with the leading international restaurant of the same name, "Spondi". The two Michelin stars that he has won are just a small part of his great mastery.
By Mia Kollia
Translated by Alexandros Theodoropoulos
He was born in Messolonghi in 1972 and at the age of 4 he moved to Athens with his family. As soon as he finished high school, he worked as a waiter and somehow, entering the kitchens of restaurants, he started falling in love with cooking. He followed the School of Cooking and took his first professional steps in the most famous Athenian restaurants, such as "Peal Poole" and "Boschetto". 
In 2005, he entered the kitchen of the most emblematic restaurant in Athens, "Spondi", as sous chef next to the French chef Arnaud Bignon, while in 2012, after the departure of Bignon, he took over the reins of the French restaurant, which had already won 2 Michelin stars preserved to this day.
He hasn't worked abroad for a long time but he considers himself lucky as he has participated in major international gastronomic events, something that he considers to have won due to his course in Greece. The people in his personal environment have always been a source of inspiration and support for him. 
 
"Nothing was easy and nothing has come into my life without effort. An example of a difficult time I remember is when I went abroad to work with my finances very limited and I had to walk many kilometers in the snow to get to work.
I think that in order to use talent and abilities one needs mainly will, perseverance and hard work. Nothing comes by chance. Something that is very successful is therefore becoming commercial. Personally, I am very happy that my creativity appeals to a lot of people and is accepted and commercialised. First of all you create for yourself, it is a part of yourself. The more out of the box you think, the more creative you become. Of course, sometimes when you have in mind and for whom you cook, it can be an additional source of inspiration, as you want to meet the requirements of its taste.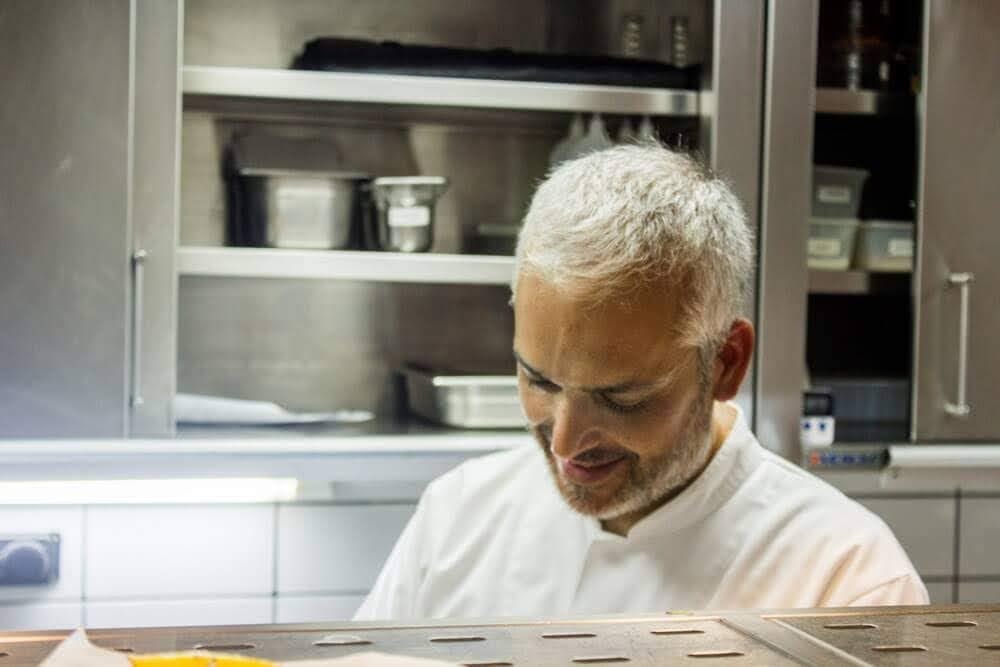 Hospitality is a core value for me. Hospitality means offering and selflessness. Ideally for me, focus is the ability to combine and offer all of the above in the ultimate way. People pay so much attention to taste as it is one of our basic senses that offers enjoyment, memories, experiences, emotions. It is an integral part of our lives.
When you cook it is like composing music. You combine materials like notes. It is something that you have in your mind first, that you inspire and then you are called to capture in a way that is not insane. Inspiration and knowledge intersect.
Cooking requires discipline and perfect cooperation.
I want to believe that the intensity and harshness of cooking as a workplace is a matter of pressure. Criticism is always welcome as long as it's well-intentioned. I listen to everything, I accept it, but at the same time I analyse it and shape my own point of view.
Food is our bond. In every home, especially in Greece, food is inextricably linked to important moments of family life. It is a cohesive element, an element that strengthens family ties in a unique dimension and with the function to unite and create memories. The fact that you can often contribute to all this is unique".
Favourite materials?
They are shaped according to their seasonality. Nature guides and highlights. This is the exciting thing about our job.
Favorite place in Greece?
Lesvos. Its nature and taste are pure and varied, full of surprises. As for abroad, the purpose of my life is to fill the map with thumbtacks. I'm at a good level at the moment.
A Heart Tip?
 
Remember that you love what you do when you feel frustrated and hurt so that you do not give up. 
A Mind Tip?
Always do your best to become better and use your mistakes as a source of knowledge and self-improvement. 
#HisStory