Musician, composer, performer, and singer. And a personal choice by Leonard Cohen. She is an artist with an international career who leaves her distinct mark as everything she creates comes from the heart.
By Mia Kollia
What was the moment you realized your love for music, and what led to it?
I was five years old when I told my sister that I wanted to follow the path of music. I have loved singing since I was little; my mother had an incredible voice, and she whistled in the kitchen while cooking. My parents had excellent record players, so I listened to classical music, Hadjidaki, Beatles, and all kinds of music from a very young age. Indeed, their love of music influenced me greatly, but it's also innate; you're born with a gift. I came into the world to do this thing. We also went to many concerts with my parents, so I had the opportunity for this love to grow more profound over the years. There were concerts, certain moments, voices, and records like Bob Dylan's. When I heard his song 'Blowing in the Wind,' I thought that's what I wanted to do: write a song that makes someone feel, even just a little bit, how I felt at that moment.
You have chosen a space that requires tremendous and constant devotion, with the possible deprivation of other things. How do you feel about this?
When you love something, you sacrifice something else. In my area, I offered a lot in different phases of my life - I started a family late, and I left my family early to live abroad, where the opportunities in my field were much more significant. But I was moving forward consciously, knowing I had chosen this difficult road. Sometimes I bent down and wondered what I was doing, but then I found the courage to get back up and move on. As the poet Robert Frost said, "I chose the road through the woods, the hard road, the road less traveled, and that made all the difference."
What does it take to make a someone's dream come true?
It takes patience, perseverance, and hard work. Of course, timing also plays a significant role, i.e., being in the right place at the right time. But as we say in Greece, fortune favors the brave. It takes courage and perseverance. Of course, as I said, circumstances also play a role. More opportunities can certainly arise if someone is born and raised in Los Angeles or London and has the right influences and connections. I was a girl from Thessaloniki; I found myself at first in London and later in Los Angeles without knowing anyone. The success in London (chart success, great reviews, sold-out tours, an hour-long documentary about my career on British TV, songs in films, and the London Olympics) opened doors for me. So when I moved to Los Angeles, some people already knew my achievements in the UK. On the other hand, it is also in everyone's character. It would be best to have this fire inside you to chase the dream - the fire Kazantzakis and Seferis were talking about.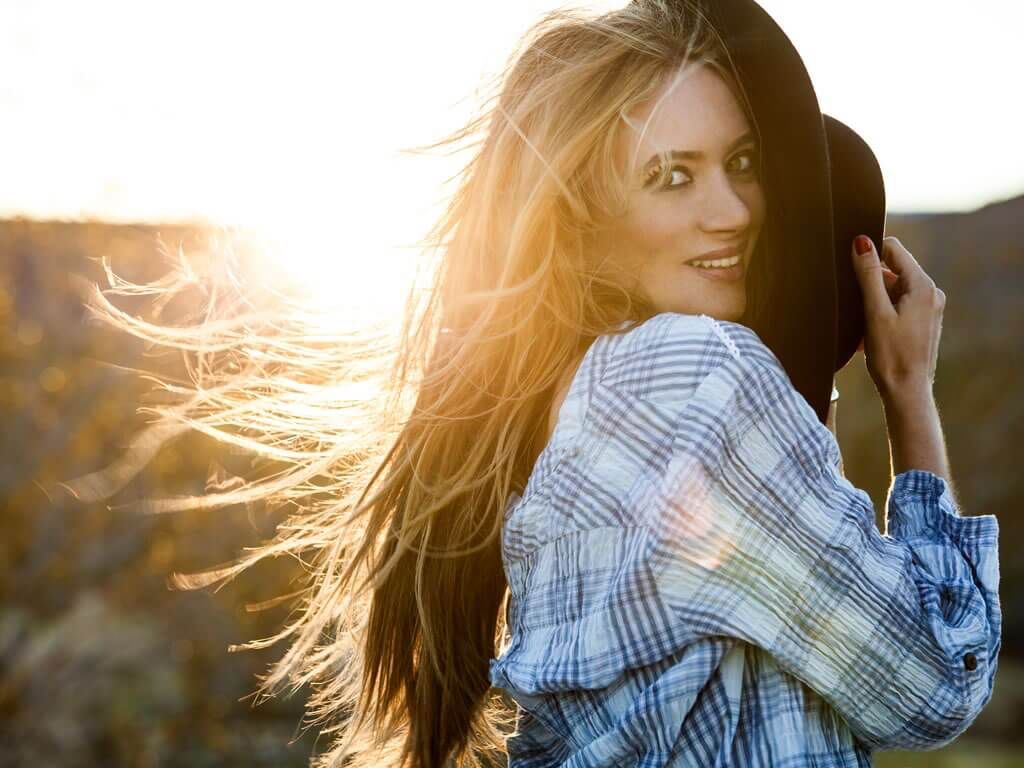 - What were the most significant difficulties you faced, how did you overcome, and what did they teach you?
The most considerable difficulty I encountered was that my family was not supportive of me following this career at first - and quite logically, because it was a challenging path, and they wanted to protect me. But this first difficulty was good for me because it brought me face to face with myself and made me think deeply about why I want to do this so much and how I can practically achieve it. So I first studied Business Administration and started my record label for my works to be an independent artist at a time when only Ani DiFranco and a few others dared to do that.
The next difficulty was when I found myself in London after my master's in classical singing and jazz. What helped me there was that I was pretty bold. I sent my first demos to various DJs and radio stations and tried to find people who would believe in me.
Things are much more difficult in our work than before from the point of view of artist development. Record companies no longer support talents and help them find their "voice"; they don't give them the time and opportunity to mature. So, I had to search for my niche alone - that was challenging with guidance and support.
But the difficulties taught me a lot: That love is everything. Living according to your principles and kindness is power. Never give up. Wake up daily with gratitude for what you have and that success is relative. Success for me is a balanced life.
- You work in a field with immense competition. What do you think keeps you going, apart from talent, and how do you handle the constant pressure to succeed?
What keeps me going is that I see the big picture; whether a failure or a success is not that important. The important thing is to see the big picture and whether what you do ultimately touches souls. It is important to serve my work and write the music that comes from my soul. When I write something that moves me, it will find its audience and impact others. I stay aware of the details and daily struggles I often throw at myself. Being human means, you're going to suffer - and that's in life. Success is relative to everyone, but I would only be happy if I had balance in my personal life. The good reviews, the money, and the recognition are just one piece, and ultimately it's a combination of things that makes me feel successful. Also, leaving something positive in this world concerns me every day: to give positive messages and remind myself and others who we are and that we love deep down, which we lack most of all.
Meditation helps me manage stress, as does my belief in something more significant and, of course, my family and wise friends.
- Leonard Cohen and you: Tell us the story of this meeting and what this experience means to you.
This experience was a big deal, a big honor that he chose my voice for his latest record. When I first met him, I was very impressed by the fact that he had something very bright inside him, he almost glowed, and at the same time, you felt a shadow, as if he carried the light and the dark inside him at the same time and they lived in harmony. He was humble and had a good sense of humor. He was an artist I had admired since I was little. One of the things our collaboration has left me with is the encouragement to use my Greek performances more in the lyrics. So I began to appreciate the Greekness of my work and my voice even more, and I set the bar even higher in my songs, also inspired by the number of times he wrote and rewrote something himself.
- How is life elsewhere, what do you gain, and what experiences do you stand out?
It's hard to live away from your home country. Especially since my family lives in Greece, and I miss them. Of course, I miss Greece, but it is always inside me.
In Los Angeles and London, you feel that everything is possible. Especially in Los Angeles, you feel like you can chase your dreams and make them come true. People are very creative; it's a beautiful city.
Are there beacons in your life?
Yes, of course, people who are alive and people who have passed away. Sometimes, conversing with artists who lived in the past through their work. Reading the poetry of Elytis and Seferis, I feel that they illuminate my life and guide me. Leonard Cohen and Chris Difford enrich my life with their light. George Andreou, Dimitra Galani, and Lina Nikolakopoulou, my first vocal teacher in New York, supported me in moving toward my dream. Their advice and guidance helped me advance my career.
But my mother, my sister, and my husband have been angels in my life, rocks. Also, my teachers Trudy Goodman and Jack Kornfield, my spiritual friends; there are so many!