He converted his Achilles heel into a symbol of global admiration and recognition.
By Alexandros Theodoropoulos
As human beings, we do not always design our fate and we usually don't know what's coming. Vaggelis' mother was one of the unlucky ones being pregnant during the unprecedented times that followed the Chernobyl disaster of 1986, at a time where lots of parents expressed serious fears about their unborn or newborn children and the high possibility that their health would be affected by the expanding radiation.
Soon after his birth Vaggelis was diagnosed with an aggressive type of cancer that according to the doctors could have possibly derived from emitted radioactivity to which he had been exposed to through infected food. He was sent to Boston to undergo surgery, where it turned out that amputation of his right arm was required to save his life.
He lost his right arm at the age of three months.
Today, 33 years later, he is the only one-armed boxer in the whole world and one out of the three one-armed athletes in combat sports.
After giving a battle with a destiny that he never chose, he achieved worldwide recognition for his exemplary sportsmanship and determination.
Despite early problems of his childhood due to his handicap, he accepted it at the early stages of his life and managed to step forward really quickly into building a strong and "almost naughty" – as he says – character that allowed him to face problems with strength and determination.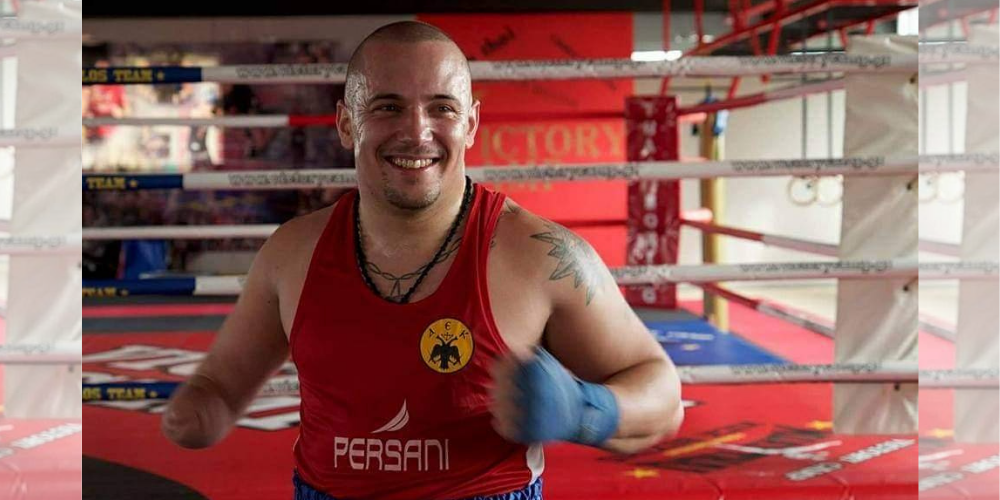 As it happens with a lot of diverse children, Vaggelis was a victim of bullying in his early years at school. He recalls being labeled as Captain Hook when he put on a prosthetic arm which had only three fingers.
After the difficult times of his childhood a number of personal matters led him to leave Greece for the sake of the United Kingdom at 21 years old. In Nottingham, incited by his first boxing coach, Toni Lange, he chose to do boxing or as he later stated: "boxing chose him".
After hard training, he surpassed all physical and psychological difficulties and soon became a pro boxer acknowledged for his mettle and resilience to fight in the ring with one arm versus able-bodied athletes.
Today, he has been fighting as a professional for more than 10 years and has won most of his fights under the nickname of "Cobra". He has also won the belt of the well-known fight show "No Limits" in Athens.
Since his return to Greece, he has been teaching boxing to young people and children in the boxing team of AEK, one of the biggest athletic associations in Greece.
He is the first boxing coach in Greece to have taught boxing to disabled people like people in wheelchair.
He says that doing boxing and teaching boxing are totally different things. He believes that as a coach you have to be able to respond to the different needs of your athletes and to comprehend and analyse their psychology – which might be totally different to what it was yours as a player.
"I don't only speak for myself. I am currently representing a number of young people who take me as an example. I am coaching children who through sports can explore themselves and achieve important changes to their physicality, their psychological well-being and their characters. I am so happy because all my athletes have learnt to respect their opponent and be good persons."

 
Vaggelis himself managed to stay strong throughout difficulties and setbacks and chose sports as his final redemption. He found his lost self-confidence of his childhood and he is now able to compare what life gave him to what it took back from him.
"The most important thing is to try to be a sports paradigm for young children. Winning is not the most important of all, but to fight, yes, it is", he says.

 
At a very young age, Vaggelis asked his grandma what it actually means to be handicap. He then suggested giving a name to his arms.
His grandma told him that they would name the left as "wind" and the amputated right as "cloud".
Apparently that "wind" is the blowing wind that led him to the road of success. A road in which he is currently putting his student athletes. 
#HISstory