Famous actress, Irene Papas, embodied Greekness in every way: she was a Greek beauty with a Greek soul and aura that dominated the international stage and cinema. 
By Mia Kollia
Translated by Alexandros Theodoropoulos
Irene Papas, the Greek actress with the great international career, a majestic figure and symbol of classical Greek beauty and a dynamic woman with a brilliant spirit, deservedly stood as a representative of Mediterranean culture worldwide.  
The determining influence of her father
Born as Irini Lelekou, in Chiliomodi, Corinthia, on September 3, 1929, she came from a family of teachers and had three sisters. Her father, who was a professor of classical drama, passed on to her his love for ancient drama. Talking about her childhood and her relationship with her father, she said in an interview: "I have blamed my father for many of my  misfortunes, but I also owe him a lot. He made me who I am. He taught me to always have doubts and ask the right questions. May my sisters and I be proud women. Not to be bent over embroidering cushions, but to read Aristotle! And those childhood years defined who I am and I never lost my childish soul". 
The first artistic experiences
At 12, she moved with her family to Athens and at 15, her talent began to find ways to flourish. She became a radio producer, a singer and a dancer in various events while later she attended acting classes at the Drama School of the National Theater, with great teachers such as Giorgos Glinos, Nikolaos Paraskevas, Loukas Karytinos, Pelos Katselis and Dimitris Rontiris. At the age of 18, she married writer Alkis Papas and although their marriage didn't last long, the actress kept the last name Papas with which she achieved global fame and recognition.  
In her first steps on the stage, she participated in productions of the Greek National Theater, with excellent performances in ancient tragedies such as "Medea" and "Electra". But she decided to stop performing such roles, because as she stated in an interview with the newspaper "Avenire" in Rome: "I decided that I will not play in tragedies anymore, because tragedy entails a huge responsibility and the fear that I might not be able to cope would make me feel really bad."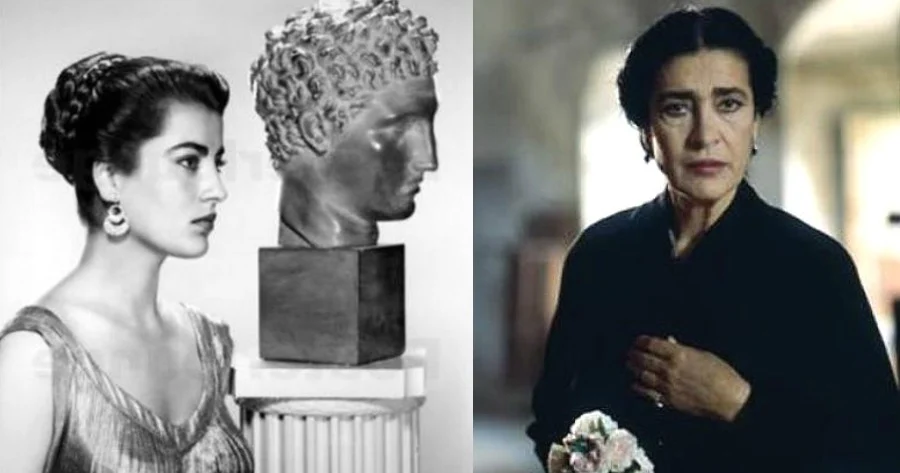 On the way to the top
In her last year at the drama school, Alekos Sakellarios asked her to appear in comedy skits and she accepted. Her debut in the cinema came no later than 1948 in the film "Fallen Angels" by Nikos Tsiforos, while in 1951 she played in "Dead City" by Frixos Iliadis. The film was nominated in the Cannes Film Festival and was the first international recognition for Irene. In 1962 she collaborated with Michael Cacoyannis, starring in the film adaptation of "Electra". The film won a total of 24 awards and honors. 
The Oscars and the Broadway
Irene Papas was on the frontline of international cinema for many decades, but the ultimate recognition of her infinite talent and great charisma came in 1969 with the film "Z" by Costa Gavras, which won the Oscar for best foreign language film. 
In 1967, she had already made her theatrical debut on the Broadway stage, with the play "That Summer, That Autumn" alongside Jon Voight, while later she played in "The Trojan Women", filmed in English with international actors. There she met her co-star Katharine Hepburn, who played Hecuba, with whom they developed a strong friendship throughout the years.  
Irene Papas and her international performances
Irene Papas performed in more than 80 films with filming in all over the world and famous co-stars such as Marlon Brando, Yves Montand, Gregory Peck, Anthony Quinn, Richard Burton, Gian Maria Volonte and James Cagney. Her most famous films are the Hollywood blockbuster "The Guns of Navarone" and "Zorba the Greek". Once she said about the roles she chose: "I never wanted to play sensual roles or roles of desirable women. What I've always wanted is to play me, that is, an independent fighter."
Athens and Rome
In 1972, Irene Papas appeared alongside Greek composer Vangelis Papathanasiou, recording with him "666", the last album of the music group Aphrodite's Child, while two more collaborations followed, in "Odes" with arrangements of Greek folk songs and "Rhapsodies"  with hymns of Holy Week.
In her career she also performed for and worked with many great Italian directors and when she was honored, in 2008, with the "Rome Award" at the ancient theater of "Ostia Antica", she accepted it saying: "I don't know if I should laugh or cry, I can just say that Athens will always be my mother, but Rome, at the same time, is my second mother and that comes as my own personal choice." 
International recognition
Irene Papas received many important awards, among them, in 1995, when she was honored with the Medal of the Grand Commander of the Order of the Phoenix by the President of the Hellenic Republic, Kostis Stefanopoulos, while in 2000 she was awarded the title of "Woman of Europe" for her contribution in promoting European cultural identity. In 2009, she was awarded the Golden Lion of the Venice Theater Biennale, by the hands of director Maurizio Scaparro.
The Greek actress had a close friendship with Andreas Papandreou and with the support of his government she created the "Scholeion", a complex of theater spaces on Piraeus Street, which she said was the most beautiful street in Europe, overlooking the Acropolis and we should make it a "road of culture". Today, this building has been allocated to the Drama School of the Greek National Theater. 
In recent years, Irene Papas had been isolated in her home in Plaka, as she was suffering from Alzheimer's disease. She passed away at the age of 96 on September 14, 2022. 
#HerStory