Peripatetic concept maker Georgios Thisseas Carabellas proudly presents his new project.
 
#Fondazione @georgioscarabellas
By Georgios Carabellas
Translated by Alexandros Theodoropoulos
The Spyros Loverdos Foundation and Library is a unique historical, architectural and cultural landmark designed by the great philhellene Ernst Ziller and built in 1907, which houses a rich collection of books, as well as the crème de la crème collection of Byzantine icons of Dionysios Loverdos's brother. After a long period of inactivity for more than 40 years, the building is reborn, revived and has reopened as an aesthete and eclectic events venue ready to host any form of corporate, private, social and cultural event!
After 25 years in the field of media, advertising and lifestyle and after he has taken over the curation of many projects from every possible creative post - doing storytelling with the attitude of a modern "homo universalis", a "renaissance man" who believes that everything about creativity is interconnected - the restless and versatile concept maker Georgios T. Carabellas is now in the field of conceptual hospitality throughout this project. 
He respects the aura of the past and as Creative Director / Curator he relaunches it, giving it that certain je ne sais quoi and creating with his own well-known signature and out-of-the-box way, modern scenes like modern "Salons Litteraires".
Many great masterpieces can be found there, like ornate wood carvings made by wise Kefalonian craftsmen, a private chapel, rare antiques and colorful iconic design items which bring balance between past and present, tables of 6 meters long in the Reading Room, the ceilings of 8 meters high in the Main Hall – an exaltation of the soul - the carpets, the crystals and the chandeliers that are so many that they just rest on the floor; a magic place that extends in an area of ​​over 900 sq.m. 
The brilliant openings take off with the outstanding 1-acre botanical gardens of Kifissia, along with the age-old olives, the plane trees, the proud cypresses and all kinds of Mediterranean plants, which for decades have been the ideal setting for the sophisticated meetings of the bon vivant intellectual and economic elite of Greek society.  
The pool with the chic stripes, the red Positano sunbeds, the marble Doric style benches designed by Konstantinos Parthenis, the herb garden and the platform with the hand-painted tiles of 1920 create an old-money atmosphere in the center of the elegant suburbs, that is absolutely current and state of the art. The Fondazione events venue can host any corporate, private, social and cultural event.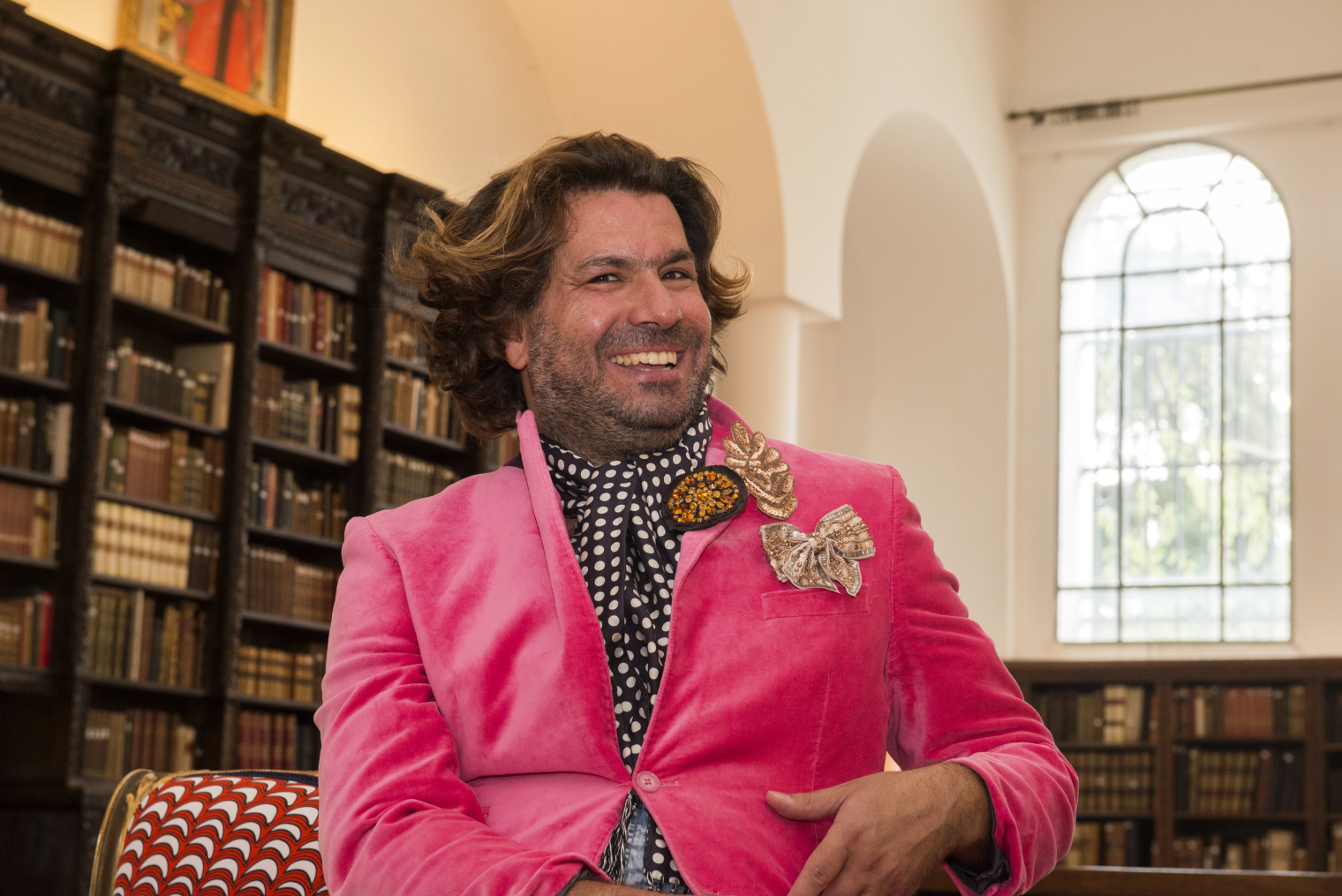 Fondazione - Les Salons Litteraires
In the distant past, when the bourgeoisie hadn't only a high economic status, but also a cultural education, they were looking for beauty, creativity and morality. They used to gather in such places and enjoyed evenings of poetry, literature, concerts and theatre solo performances, as well as explored gastronomic paths with the aim of auxiliary bliss. All these happened in the distant past. 
At the same time with the availability of the place for events, such conceptual nights will be revived from now on at the Fondazione, with the vivid title "Les Salons Litteraires", with a modern look and thematic pillars in each case of fashion, art, theater, dance, photography, design, taste and literally all possible kinds of creation.
Along with the hedonism of the senses and the spirit, another great challenge is added. A challenge like the ones set and accepted by the concept maker, Georgios Thisseas Carabellas, in all his projects. 
 
My experienced mantra is Joie de Vivre. And especially now, in an age of fluidity, uncertainty, skepticism, but also of a certain spirituality which fortunately I've started seeing, perhaps something positive will return to all of us, as a consequence of the difficulties we are experiencing. So I said to myself: "Now, more than ever, it's time for Action, Relaunch, Redefining, and Restart of everything.
There is no apologetic mood needed, no aimless impressions and no unnecessary flattery. Simplicity, lightness, immediacy and truth are what is needed. We take the reins of our life again, we give our own meaning and our own sense to our lives. We had missed that. Finally, we rejoice in it again, as it is and as we want to do it.  
 
Fashion, Style, Design, Travelling, Art, Taste, Theater, Literature, Cinema and Music, of course; these are the actual tools, not the empty and useless restrictions of lifestyle. We need the new and the modern in our lives, but not as an end in themselves. We need lives full of experiences, great recollections and images and aroma; Hm, let's say a life full of life, sounds nice.
The trilogy of modern Greek pathogenesis that always bothered me has always been the absence of aesthetics, creativity and ethics", emphasises Georgios T. Carabellas. "At this point, Fondazione, my new Athenian base from where my conceptual universe will unfold, has sprung up in perfect timing.
This is a project that clearly has to do with hospitality, a field that magically encompasses everything I have done so far. Inevitably, this is my next step, through which the absence of aesthetics, creativity and ethics will be somewhat corrected. I am sure of this, judging by the universal acceptance of Fondazione and Fondazione / Les Salons Litteraires so far, as very important personalities from the Greek arts and culture are eager to "produce culture" here, as they themselves state.
Fondazione means great collaborations and open doors to the ubiquitous aesthete and eclectic Fondazione aficionados to be able to participate in the unique aura of the place and its actions; a place where the heritage and the quality of the tradition intertwine with modern concepts".
Fondazione is located at 256 Kifissias Avenue and Othonos, Kifissia, 14562.