Anastasia Pomoni, for the last 14 years, has lived and worked in Switzerland. After an academic career and two medical specialty titles that complement each other; namely, radiology and nuclear medicine, she has been the director of the Nuclear Medicine sector in LA SOURCE clinic of Lausanne for the last 4 years. There, along with a team of doctors, they fight for health with determination, tenacity and love.
By Mia Kollia
Translated by Alexandros Theodoropoulos
She is 43 years old and has got a son. She studied medicine in Milan and specialised in Radiology. After completing the first year of her specialty, in Athens, she decided to continue in Switzerland. Her decision was difficult. It was a new start in a foreign country with a different culture and different mindset compared to the Greek one. She had to follow a different life and work routine. Briefly speaking, she had to start from scratch.
In Lausanne, she got the medical specialty of radiology and then she focused on oncology. In particular, she was interested in how the disease can be detected at an early stage. She was also interested in the ways the human body can react to the treatment that the patient follows and the ways to discover innovative treatments specifically for patients with tumour.
Thanks to her constant research, curiosity and the absolute belief that a doctor should always do the best for the patients, she received her second medical specialty this time in Nuclear Medicine.
Nuclear Medicine is a medical field that uses radiation sources for diagnostic and curative purposes, providing anatomic and metabolic information in operational and molecular level by depicting the whole body, something that often features alterations that precede the anatomic ones.
Together with the featuring method of radiology there are hybrid featuring systems that combine both methods. In the last years there has been an increasing international interest in diagnostic and mainly therapeutic levels, as there is possibility of radioactivity focused on tumour.
One of the most significant achievements is the Theragnostics which includes, with great precision, tumour treatments that have already been diagnosed, like for example alterations of bones derived from prostate cancer or neuroendocrine tumours.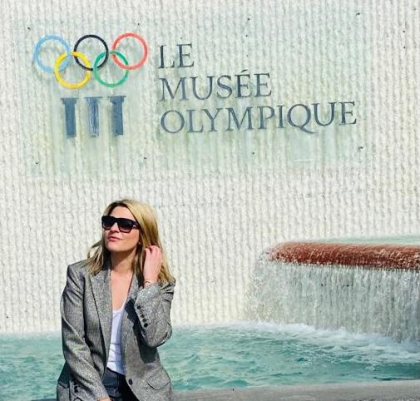 "I've never felt a stranger", says Anastasia, "but the adaptation for me wasn't easy.  But a bit of Greek temperament and Swiss chocolate along with the great people that I've met, made me feel at home. Here there aren't Greeks or foreigners, we are all the same and equal. We all have opportunities and potential, so it's in our hand to succeed. But of course not everything is about working. In my spare time I usually go for a walk in the lake where there is a fantastic view of the Alps or I go to the alleys of the old town or even at the countryside. I spend the nights with friends and of course I enjoy my favourite fondue".
And as always, Greece is there. "What I miss from Greece? Everything and nothing. Greece is here with me whatever I do. Wherever we may be, we should believe in ourselves and love ourselves. Let's follow our dreams, but above all, by taking care of our health and with respect to time. Nothing is for granted. We should remember this before life will force us to do so. Every day in the hospital I expect to see sadness, grief and pain. But every time that I see my patients, I see only hope for living".
"So live! Life is here and is waiting for you to live it at your best"
#HERstory