Maria Themeli is an Assistant Professor of Medicine at VU University Medical Center in the Netherlands and a researcher who has been recognised as a very important contributor to the treatment of hematological cancer.   
By Mia Kollia
Translated by Alexandros Theodoropoulos
Maria Themeli was born and raised in Patras. She studied at the Medical School of the University of Patras and graduated first among her fellow students in 2006. After her doctorate at the same university in 2010, she continued her postdoctoral research at the Memorial Sloan Kettering Cancer Center in New York.
This work led to high-impact discoveries in the field of immunotherapy with CAR-T cells, which feature an anticancer activity. This method has even been patented. The goal of the researcher is to make it accessible to everyone, because, as she believes, cancer treatment cannot be a privilege of just a few people. 
Of course the journey is long. Her team of scientists around the world is constantly working to improve the results of CAR-T treatment in various types of cancer. However, as she points out: "unfortunately, every time we think we are about to finish the puzzle, new pieces suddenly appear. And that's because cancer is an extremely multifaceted disease."
Search for truth and recognition 
In 2015, Maria Themeli received the "Marie Curie" scholarship from the European Union and returned to Europe, to the Hematology Department of the VUmc Cancer Center in Amsterdam, where she is now an assistant professor.
What motivated her to engage in research is that researchers are people who have an inner need to discover the truth. They are not satisfied by just making observations; they want to know the reasons behind them. Then, depending on the stimuli, they decide to focus their talent and desire on a specific field. 
The support that she received from her family was also helpful, "as it is important for the family to recognise the value of the search for knowledge and to strengthen this process".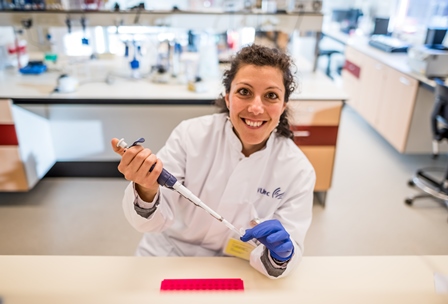 In 2019 she received the "Argo" Innovation Award, given to Greeks living and excelling abroad, and in 2017 she was named Woman of the Year in the Netherlands for her research in cancer immunology, in the competition of the scientific journal VIVA, titled "Smart Heads".
Researchers' features and persistence in vision
The Greek researcher believes that the work environment and technical capabilities play a major role in the development of a researcher. That is why a trainee researcher should have the experience of working abroad, without this meaning that our country lags behind in this field.
It has to do with the enrichment of scientific thinking, through many different collaborations. You get this enrichment when you get to know other work environments and conversations with scientists who may have a different way of thinking.
As for the advice she gives to young people, that is to set goals and work as athletes to achieve them. Not necessarily to be champions, but certainly to try with all their might, so that nothing can deprive them of their vision; to appreciate knowledge, because knowledge is never in vain.   
After all, today she sets small and big goals in the laboratory and rejoices in achieving them. "It is important to celebrate our goals, because research consists of 90% failure and frustration and only 10% of moments of success. Providing an answer to even one question is the driving force," she said bluntly. 
 
#HerStory