Marina Lambraki-Plaka was for many years a true representative of arts and culture and one of the most notable directors of Greek cultural institutions. She may not be here with us anymore but she knows that she left behind a great legacy, with the reformation and modernisation of the National Gallery, which she made accessible to all and with foundations that will last forever. 
 
By Mia Kollia
Translated by Alexandros Theodoropoulos
#culture #leader #visionnaire #nationalartgallery
This great personality of Greek culture happened to be a friend of a friend of mine, so she personally guided us to the El Greco exhibition, when the Art Gallery was temporarily housed in Goudi (National Sculpture Gallery). I remember a woman who spoke from her heart and with real emotion about this incomparable artist, El Greco, explaining to us – in a low and melodic voice - certain details that no one would notice and that usually a museum guide would pass by. I clearly remember her kindness and discretion and I consider myself really lucky to see an El Greco exhibition along with her.
The woman who managed with great persistence to make the National Gallery as we know it today, being director of the Gallery since 1992, will never be forgotten.   
"From the first moment I entered the Gallery, I decided that not a day would go by that I wouldn't do something important or wouldn't work towards achieving a goal that I'd set. And my goal was to try to make culture a common good of ordinary people". So she said and so she did.   
Studies, research and dreams
Marina Lambraki-Plaka was born in Arkalochori, Heraklion, Crete, in 1939. "My father was a blacksmith and for me, without knowing it, the blacksmith shop was something like the workshop of Hephaestus, a mythical place". I loved being in the forge, because all the atmosphere in there, the fires, the anvil, the tools, was for me a museum of Contemporary Art, as I would say today, but at that time I saw it as a magical place," she said talking about her childhood.
Marina studied at the Department of History and Archeology of the University of Athens (1959-1964) and did postgraduate studies in the same department, in Classical Archeology with a scholarship from the State Scholarship Foundation and with a specialty in "Presocratic Philosophy and Art". Later, she attended the Art History courses of Professor Pantelis Prevelakis at the School of Fine Arts (1965-1968) and then she did postgraduate studies again, with a scholarship from the State Scholarship Foundation for a second time, in Art History and Sociology, at the Sorbonne University in Paris. 
In 1973 she received a State Doctorate with honors for her dissertation: "Bourdelle et la Grece" (Bourdelle and Greece). She was a person who was completely devoted to her studies and to her life goals, so her advice to young people was: "Do not betray your dreams, do not compromise and above all, follow your inclination, follow what will make you happy".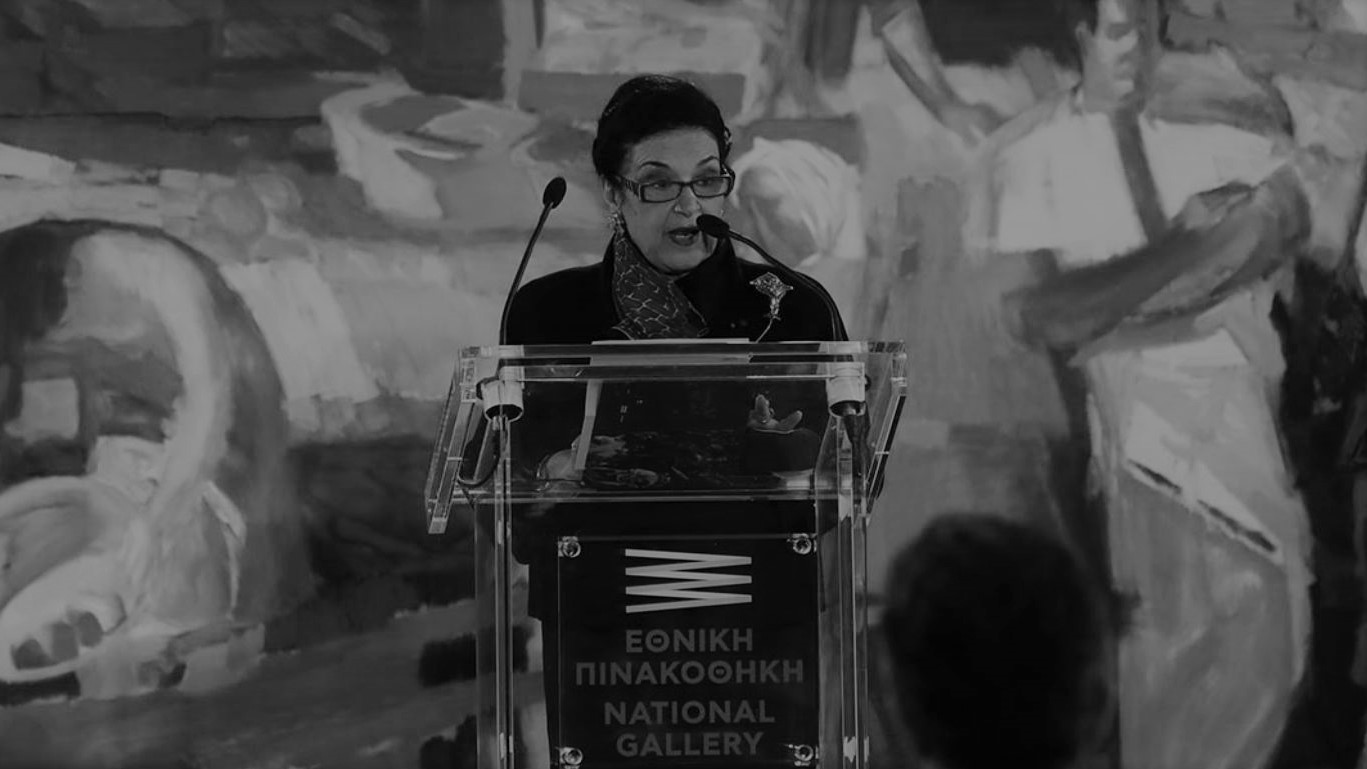 The journey towards the National Gallery
In 1975 she was unanimously elected Professor of Art History at the Athens School of Fine Arts, replacing Pantelis Prevelakis and becoming the first female professor in the history of the School.  
From 1992 Marina Lambraki-Plaka was the Director of the National Gallery -Museum of Alexandros Soutsos. During her tenure, the National Gallery was modernised and expanded thanks to the new branches in Corfu, Nafplio, the Sculpture Gallery in Goudi and the Kapralos Museum in Aegina, acquired 3,000 new artworks, including two paintings by Dominikos Theotokopoulos and other paintings by Greek and foreign artists and launched the number of the visitors to 5,500,000.  
Nothing of this was accidental… "One afternoon, a group of islanders arrived at the gallery; they had traveled to Athens especially for the El Greco exhibition. The museum happened to close exceptionally earlier that day due to a special event. So I left the event, asked to open the Museum specifically for that group and guided them to the exhibition. I cannot tell you how excited they were and how much joy they gave me," she recalled. 
The impossible called Realism
Marina Lambraki-Plaka served as Deputy Minister of Culture, Education and Religious Affairs of the Provisional Government of Interim Greek Prime Minister Vasiliki Thanou, in the period from August 28 to September 23, 2015.
She published 21 books and more than 200 studies and articles in scientific journals and newspapers and wrote more than a hundred introductory texts in exhibition catalogs.
"I never thought I had done enough, I never stopped dreaming "realistically", because my motto always remains the motto of May '68: 'Be realistic: Pursue the impossible'. Realistic utopia lies behind everything I have managed to accomplish, starting with my own life. Don't forget that I am the daughter of blacksmith Nikolaos Lambrakis from a small village in Crete", she had said vigorously.  
"I am not afraid of death. I'm only afraid of illness. And for one thing I'm sad: I won't be able to see the technological developments". Marina Lambraki-Plaka passed away at the age of 83, in the early hours of Monday, June 13.
#HerStory