The works of Stamatis are exhibited at the National Hellenic Museum in Chicago, at the Benaki Museum, at Onassis Stegi and he has taken part in notable international exhibitions like Art New York, Art Miami, Art Wynwood, and SCOPE Miami Beach. Stamatis, the 28-year-old Greek street artist with an enormous talent and deep sensitivity, touches issues of our times in his own unique way but also fundamental issues that humanity has faced since the early days.  
#art #culture #streetart #artfair #galleries #museums 
By Mia Kollia
Translated by Alexandros Theodoropoulos
- Was it your charisma that pushed you to choose the School of Fine Arts or the art itself? 
I didn't know if I had any charisma or talent and I didn't care to be honest. A subconscious passion for this art fascinated me and that was what pushed me to get into the world of fine arts. 
- How did you get started? Do you remember the first project, the feeling and the goal that you had back then? Was there any goal at all?
I started drawing consistently in notebooks during school. A typical first drawing I remember was a variation I painted on the cover of my favorite music CD. I remember those who had seen it saying "something really good is going on here", but for me there was no specific goal, I just did something that entertained me and absorbed me. 
- How did international recognition come about? Have you been touched by that and how do you manage fame, which came pretty early?
The first serious depiction of my work abroad was in 2012, when The New York Times published my work "I Love Life" as a central cover photo of an extensive article dedicated to Greece, the economic crisis that had occurred in the country and its questionable future with the European Union. "I Love Life" was my second work on a wall in Athens at the age of 18. All my international collaborations and my international journey began after this publication. "I Love Life" went viral with many publications and reposts internationally, even to this day. People want to buy it as a painting or print it to a t-shirt or to a cell phone case - they even do tattoos on their body.
The truth is that I didn't know how to manage that; it was unexpected for me and I was inexperienced. I was happy and choked at the same time.
- What is art for you?
Art is an integral part of human life. It's the spiritual stimulus that fills gaps in the mind and soul of every human being, while unlocking the ability of imagination and vision as well as communicating ideas, thoughts and opinions through an educational and entertaining character. It also works in such a way as to upgrade the aesthetics of the place and the quality of human life.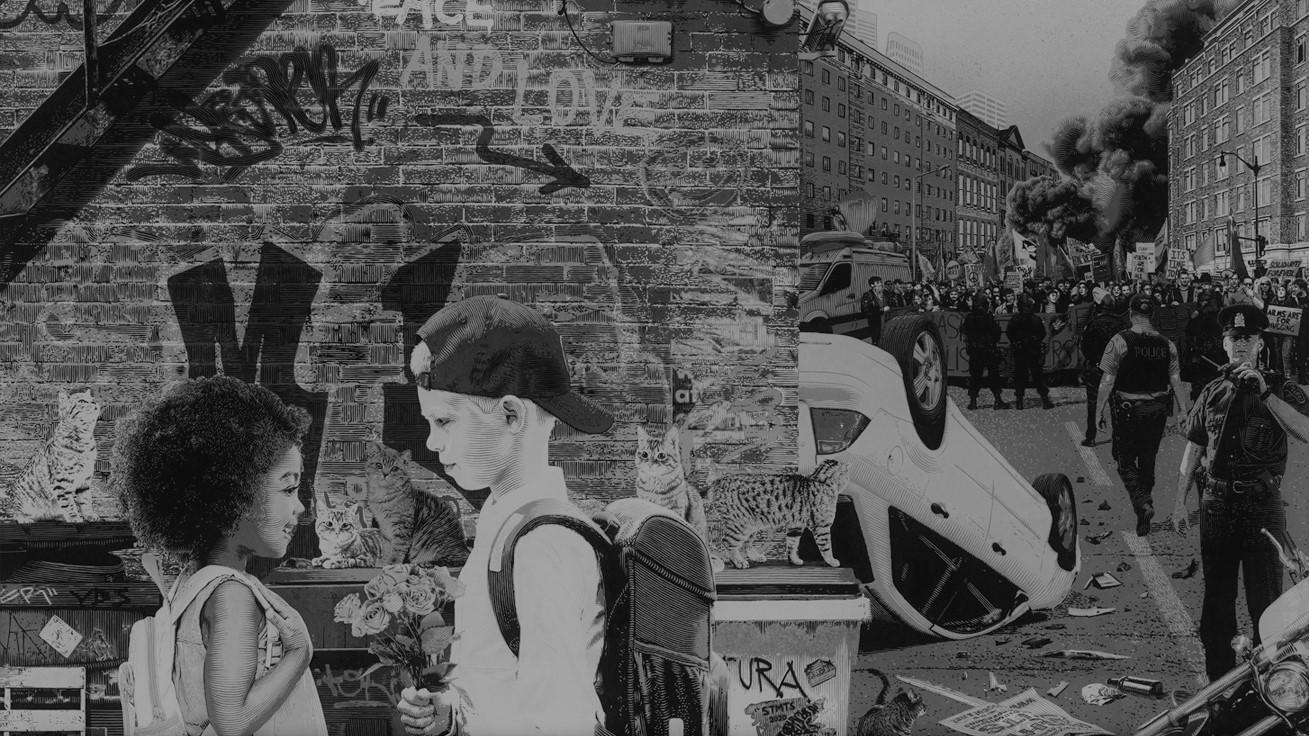 - As a street artist, would you like to talk to us about the aesthetics of the city you live in?
Athens is a city that inspires me. It's very characteristic for me the fact that it combines many different aesthetics and aspects, while there are strong contrasts too. For example, the area of ​​Plaka has a different aesthetic compared to other areas like Pangrati or Votanikos. This variety creates a city full of life that breaks the monotony and intensifies the feeling of creativity.
- Is graffiti a political stance on things? Do you believe that it can raise awareness?
I wouldn't say that it is always about politics; sometimes it can be just decorative, but other times, yes, it can have a political and denouncing meaning. For sure it can sensitise the world to some degree but that's all. Graffiti or Street Art alone cannot change the world.
- The social dimension of your works is clear. Can you tell us a little bit about the process from inspiration to implementation?
I am definitely inspired by the news. However, I am also interested in issues concerning society, humanity and life itself. I am also interested in issues related to man's relationship with nature and I am also concerned with concepts such as power, innocence, knowledge, purity and the present in relation to the past and the future.
Within this frame, when an idea comes to my mind, wherever
I may be, I try to keep some notes or, if possible, I make a very simple sketch. Then, a certain procedure follows with multiple stages of development, processing and "creation" of the image, ending up to the completion of the project and the final visualization of the original idea.
- Tell us about some of your international collaborations and about the most important moments of your career…
My international collaborations have been with galleries, museums, institutions, multinational companies, musicians, brands, international press, festivals, publishing houses and companies.
If I can single out some important collaborations I would say the creation of the cover for the album "Intimo" of the world famous singer Nicky Jam, the dressing with my murals and paintings of the building of the multinational company KPMG in Oman, my participation in international Art Fairs ( Art Miami, Art Wynwood, Art New York, Palm Beach Modern + Contemporary, SCOPE Miami Beach) as well as when I was selected as a young artist to exhibit next to the legendary Greek engraver, Tassos (Anastasios Alevizos) in his retrospective exhibition at the Benaki Museum. I cannot fail to mention the publication of my work "I love Life" in the New York Times in 2012 and all its subsequent worldwide recognition to this day. 
- What advice would you give to teenagers who are trying to find what they want to do in their lives?
I would say that to be able to find what they really like and dedicate themselves to that in order to conquer it, is the best thing. Also I suggest to ignore the countless hours needed to devote oneself to that and the constant effort that is required in such cases. Focus on a constructive model of life away from all clutter.
- What are your future plans and dreams?
I want to continue to be creative, evolving and enriching my art as much as I can, with even more activities in all sectors, in Greece and abroad, staying healthy and strong above all.  
#HisStory