Georgios Thisseas Carabellas is a peripatetic concept maker who spends his time in Athens, Skyros and the whole world. With 25 years of experience as a creative director, he has worked as a curator from every possible creative position; advertising, magazines, design, fashion, art, taste, books, theater, dance, hoteling, filming, radio, hospitality, television and, of course, travelling.
 
By Mia Kollia
Translated by Alexandros Theodoropoulos
#art #design #culture #concept #lifestyle
How do you deal with many different creative objects? How do you marry them all together?
As a modern Homo Universalis and Renaissance Man, I believe that creativity as a whole, as the making of art, is interconnected. I undertake concepts by doing storytelling for projects that concern the whole spectrum of the modern lifestyle; from a 360o communication and advertising campaign, to a fashion show, editorial or collection and from a holistic concept for a hotel to directing for a special event.
My motto is Joie de Vivre and my belief that knowledge is true only when it is shared. All of this requires deep cultivation with strong studies and continuous research, experienced urban courtesy and old-fashioned aura, as well as, ethical and correct Greek along with 5-6 foreign languages.
What did you do in London?
I consciously and voluntarily left London to work in another sector and dynamic market, doing what I mentioned but also something completely new, in the field of design, the so-called house sleeping. This means that I buy small apartments and renovate them completely, always leaving my personal footprint and aura. Then, I resell them or rent them with my personal belongings, furniture, art, books and other objects. In other words, I offer a complete proposal of my own lifestyle.
How did the Dolce Far Niente platform come about?
I mobilized my creativity, leaving behind my comfort zone. In an era of liquidity, uncertainty and skepticism, but also of some normality that I see returning perhaps as a positive consequence of the difficulties we experienced, I dived deep again. Time for action, relaunch, redefinition and restart. No apologetic mood or good impressions are needed, no unnecessary flattery; only with simplicity, immediacy and truth.
We take our lives into our own hands and enjoy what we love outside of an empty and meaningless lifestyle. Somehow, I created my own platform of ideas, Dolce Far Niente, which hides a conceptual self-sarcasm behind, since I do the exact opposite of the title - "The sweetness of doing a lot of things", and in fact, many new things. 
What is "The travel manifesto"?
Initially, it's the journey, which is my whole life and something that became so difficult nowadays that made me seek a redemptive reaction, a purely personal survival instinct. So I brought back memories of favourite destinations, a journey with sounds, music, perfumes, tips and trivia. I created an optimistic manifesto from snapshots, using the magic of the medium itself and my imagination. Thus, was born The travel manifesto, a brand new radio concept with one-minute travel episodes that you can listen to daily on Best Radio 92.6.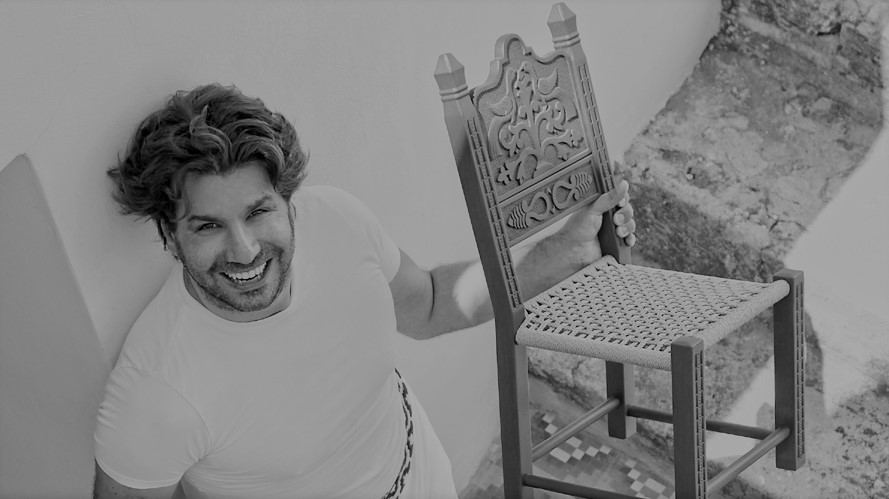 Well, your projects never end, do they?!
I made my first short film entitled "Fool's Day", a self-referential retrospective of introspection and evaluation. This concludes with the festive album that I am preparing, the GTC50 Joie De Vivre Is My Middle Name, inspired by my 50 years, with the imprint of my entire creative universe. I also made a documentary about my beloved Skyros, while I continue to write. I am actively involved with out of the box instagram stories for clients, while I intend to soon deal with television, as a natural next step in my creative journey. 
One of the most important actions was the management of the Spyros Loverdos Foundation and Library and the Fondazione / Les Salons Litteraires. Can you tell us some things about that?
Indeed! It's a unique historical, architectural and cultural landmark, a building of 1907 designed by the great philhellene Ernest Ziller. After over 40 years that the building had remained inactive, it has now been revived, reborn and reopened its gates as the most talk-of-the-town aesthete and eclectic events venue!
Also, note that in the distant past, the bourgeois who hadn't only financial power but also deep education and culture and sought the beautiful along with creativity and values, gathered in such places and enjoyed literary evenings, a concert, a theatrical solo or explored gastronomic paths aimed at auxiliary bliss. 
So today, apart from the availability of the place to an interested party for hosting a corporate, private social or cultural event, such conceptual nights will be revived at FONDAZIONE entitled "LES SALONS LITTERAIRES", with a modern natural look and thematic pillars per case of fashion, visual arts, theater, dance, photography, design, taste, all possible manifestations of creation.
In places resembling a Members Club in London, ubiquitous aesthete and eclectic FONDAZIONE aficionados will be able by popular demand to participate in the unique aura and activities. There, heritage and the quality of tradition are in total coexistence with state-of-the-art concepts.
What do you think has been the biggest difficulty you've faced in your life?
It was something that existed for a long time, something that marked and haunted almost my entire adult life; I let myself believe that I didn't have confidence! This automatically created specific reactions, attitudes and approaches, which also brought a certain feeling of frustration. So I started working hard on myself. I highly recommend it, although it hurts more than anything else. I made a real change, I changed my whole value system, I discarded people, I drove out toxicity and finally I enthusiastically embraced my true nature without apologising - I found the joy of life, what I call joie de vivre.
So after all this deep research on myself, eating my flesh and opening my soul in the mirror, I ended up to the following shocking fact: Not only did I not lack self-confidence, but as it turned out I had an incredible hidden tremendous power, which in the end made me create all these many very different things, very great moments in my personal and professional journey. 
What are the three tips you would give to young people to achieve their dreams?
Continuous search, endless evolution and constant escape from the comfort zone.
Which people have been the beacons of your life and what did you get from each one?
Giorgos Seferis for "we haven't made our biggest journeys yet", Audrey Hepburn, with whom I have an eclectic affinity, for the simplicity with which she wore a white shirt tied at the waist, a cigarette pants and a humble pair of ballerinas and Theseus, the cross-breed chocolate labrador and Pitbull, a seemingly inexplicable combination of two opposites, which in essence come into harmony, an amalgam that ultimately is me; seemingly mismatched ends, which are actually balanced; bourgeois and bohemian, an artist with a perfect organisation better than a technocrat, with popular origins of a man who has no hatred for either excellence or money. And the list goes on.
#HisStory