One of the most gifted novelists of his generation, a continuator of the tradition left by the naturalistic short stories by Karkavitsas and Theotokis, M. Karagatsis wrote novels which we read as if we were watching a movie. 
By Mia Kollia
Translated by Alexandros Theodoropoulos 
A great name, a great myth…
His real name was Dimitrios Rodopoulos. The nickname Karagatsis came from the elm or karagatsi tree in Rapsani, Thessaly, where he spent most of his teenage summers at the family cottage and used to study sitting under a karagatsi in the courtyard of the village church. His nickname, M., probably came from the Russian name "Mitia" (Russian version of Dimitris), by which his friends and classmates called him, because of his great love for Fyodor Dostoevsky and especially for the work "The Brothers Karamazov". 
Childhood and teenage years
M. Karagatsis was born in the centre of Athens, in a house at the junction of Akadimias and Themistokleous streets. He was one of the five children of Georgios Rodopoulos and Anthi Moulouli. His father came from a family of landowners in Patras. He was a lawyer and politician and served as director of the National Bank of Greece and as governor of the Bank of Crete. Due to his constant transfers, the family lived in various provincial towns. Karagatsis spent part of his childhood in Larissa, while in his high school years - from 1922 to 1924 - he was in Thessaloniki, where his father sent him as punishment, because he had forged his signature at a school check. After finishing high school, he went to study at the Law School of the University of Grenoble in France.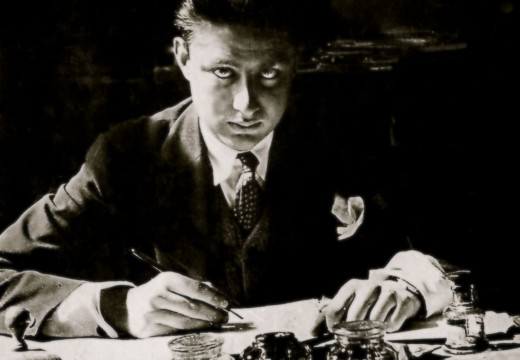 Literary societies and… other jobs
He returned to Greece in 1925 due to financial reasons and continued his studies in the departments of Law, Politics and Economics of the University of Athens. He was a fellow student with Odysseas Elytis, Angelos Terzakis and Giorgos Theotokas. After his graduation and for seven years, Karagatsis worked as a legal advisor in an insurance company. In the legendary work of "Junkermann" he shared various experiences from his tenure in this company. 
In 1935 he married painter Niki Karystinaki and the following year he published his novel "Chimaera". He gave his daughter, who was born a few months later, the name of the book's heroine, Marina.   
Karagatsis lived the period of the German occupation quietly in his house, which became a meeting place for writers of his time, while at the same time several of his short stories and novels were published.
In 1946 his mother died and as a consequence, he dedicated the novel "Great Sleep" in her memory. From 1952 he worked for the advertising company ADEL, of which he was also the director, while he participated in the elections of 1956 and 1958 with the Liberal party. Without any pre-election preparation, he failed both times.  
Realism and empathy
Karagatsis first appeared in the literary field in 1927, winning an award at the First Literary Competition of Nea Estia with the short story "Miss Nitsa". It was an autobiographical story, inspired by his childhood love for his twenty-year-old primary school teacher in Larissa. His later career made him one of the most prolific writers of his generation. His work is placed in the context of realism, while the author's psychological involvement in the world of his heroes and in the extreme situations they experience is dominant. 
This great empathy and his ability to touch the human soul made him one of the most important narrators. His goal was to identify the modern Greek identity and to criticise its contemporary social reality. In some of his works he presents the suffocating life of the provincial society and reveals many daily hard aspects of it. The Thessalian plain, which is described with impressive power, became the appropriate setting of his stories.  
In 1958 Karagatsis suffered his first serious heart attack, as a result of which he became estranged from his friends. He then started writing "The 10", which he never completed as on September 13, 1960, he suffered a heart attack and passed away a few hours later. 
#HisStory