The contemporary standards of our times require digital transformation which, in turn, requires soft skills. IT teams need soft skills to better transition to the new conditions.  
By Mia Kollia
Translated by Alexandros Theodoropoulos
An employee's technical skills are easy to identify when we're building a team—they're specific, measurable, and clear. In January 2020, a LinkedIn study identified the soft skills that employees should have and these are creativity, persuasion, collaboration, adaptability and emotional intelligence. With the coronavirus pandemic having affected and still affecting our lives, soft skills are being tested as businesses should keep operating.   
Even without a global pandemic, soft skills are critical—especially in companies undergoing digital transformation, which involves meeting new challenges and collaborating with different teams from across the organisation. Without employees who have the ability to solve problems, get things done, and collaborate effectively with others, managing change on this scale is a risky undertaking.
Also, the pandemic made the digital transformation of many companies even more necessary, because the quarantine brought to the fore the necessity of teleworking of employees, where this was possible. Of course, IT people working in such companies, had to build systems to help with this transition, manage technical issues either in person or through remote desktop tools, maintain servers, and take care of many other critical functions. 
Let's look at seven soft skills that IT leaders should look for when building teams for a company's digital transformation
1. Critical Thinking
When it comes to new ventures, critical thinking is a skill that helps people identify and solve new problems that arise in their work. It includes the capture, synthesis and analysis of data, as well as the ability to draw conclusions from these analysis. Critical thinking is essential for the survival of a business. However, a study by education platform MindEdge found that only 36% of current students and recent graduates feel they are well trained in critical thinking.
To hire employees with critical thinking, we need to look for candidates who can demonstrate their way of thinking by talking about their work. For example, how they handled making important decisions or solving complex problems through research, discussion, collaboration and execution.
2. Complex communication
Digital transformation can require complex changes that run across the entire company. Our team must be able to explain various technical terms, both in writing and verbally, in a way that everyone can understand. Our ability to persuade and influence others will also be an effective factor.
This is especially important in a digital transformation, as it will touch every department and every employee of the company. We need people who can make others want to respond to this whole process and new business goals.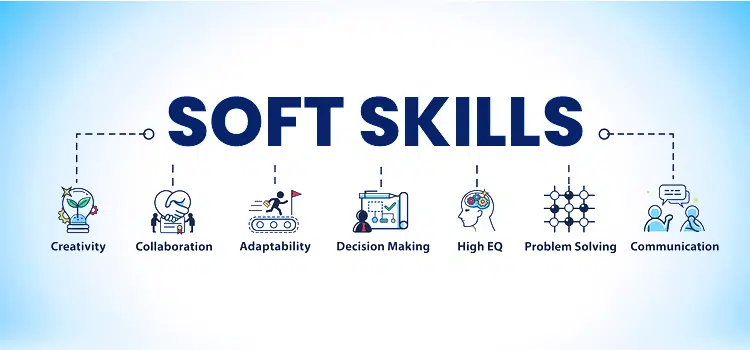 3. Creativity
Creativity is a skill that can be defined in a variety of ways and in many fields. What is certain is that creative people can look at a problem and think of new ways to solve it – ways that at first glance seemed impossible. They are not afraid to take risks and do not follow the highroad. 
To see if a candidate for hiring in the company is a creative person, we can share with him a problem that our team is trying to solve and ask him how he would approach it. We don't need to focus on the viability of the solution he will propose, but on his thinking process and originality of ideas. Does his thinking rely on traditional processes and methods, or does it present a new perspective we hadn't considered?
4. Collaboration
Nowadays, we live in the era of collaboration and the integration of IT into the infrastructure is one of the biggest challenges for the IT Department. Of course, doing so requires the activation of relevant technologies as CIOs are asked to meet the demands of CEOs to find ways to encourage collaboration within a company. 
We need people who are willing to collaborate with others—to share their ideas, to communicate truly, to comment and share their work and the fruits of their labor.
5. Emotional intelligence
According to a LinkedIn study, emotionally intelligent workers possess "a blend of self-awareness, self-control, social skills, empathy and encouragement." These features help teams come together to achieve outstanding goals during digital transformation. 
IT professionals undertaking a company's digital transformation must manage a multitude of requests to troubleshoot the organisation's hardware, software, and peripheral systems while helping the people who will operate them in the future. Social skills will contribute effectively to these interpersonal interactions.
 
6. Flexibility and adaptability
No matter how organised we are, our company's digital transformation will not always go according to plan. Some tasks will take longer than expected. New challenges will arise and it is possible that the final result may look completely different from what we imagined when we started.
So we need people in our team who can easily change course and adapt quickly. By bringing agile people to our team, we can focus on changing the organisation rather than managing change within our team. 
7. Productivity and accountability
To achieve our digital transformation goals in time, we need people who can do a lot of things quickly. And just as importantly, we need responsible people.   
These skills can be difficult to assess during an interview. One idea is to ask the interviewee to tell us about a project he had undertaken in the past and through his narrative to understand what he was able to achieve in a short period of time. To assess interviewee's responsibility, we can ask them what they would do if the project was delayed.