On a day like today, June 28, 1912, the great Greek doctor, activist and philanthropist, Amalia Koutsouri-Fleming was born in Constantinople; a strong figure who left an indelible mark on the most important events in 20th century Greece. 
By Alexandros Theodoropoulos
Amalia Fleming was born at the eternal crossroad of West and East, Constantinople, daughter of the famous dermatologist of the city, Charilaos Koutsouris. She stood out from a young age for her intelligence and charismatic personality. 
With the outbreak of World War I, her family moved to Greece and despite the adversity of the time, Amalia received a full education, apparently because of the family's financial comfort and due to the social status of her father in general, who was synonymous with the bourgeoisie. 
Studies and Resistance 
From a very young age she showed an endless love for art centered on man. Although she loved literature and writing very much, her father finally managed to convince her to follow his own path and so she studied Medicine at the University of Athens where a little later she was awarded a doctorate. 
After studying in Paris, she worked at Necker Hospital and later lived in London. Her first marriage to an architect ended in failure. 
In June 1940, Paris, the heart of Europe, was occupied by the Nazis and Amalia Fleming decided to return to - still unoccupied - Greece. But the impetus for her revolutionary and resistance spirit had already been granted. 
Immediately after the German invasion of Greece, Amalia became part of the resistance.  Many sources state that she secretly gave the money she made by working in the hospital to resistance groups. However, her contribution to the war was even more immediate and practical. Under extreme secrecy she managed to create fake identities for Jews as well as to hide them along with other resistance fighters, when needed, in a house of hers that had three exits on three different streets, thus saving their lives. 
Alexander and Amalia Fleming 
After the end of the war she settled in London and following a scholarship from the British Council, she began working for the Wright Fleming Institute alongside Nobel Laureate microbiologist Alexander Fleming. 
In the eyes of the man who discovered the first antibiotic in the world, penicillin, Amalia distinguished a special person and doctor who fascinated her in every sense. However, much older Fleming was married at the time. So Amalia returned to Greece in 1949 taking over the direction of Evangelismos hospital.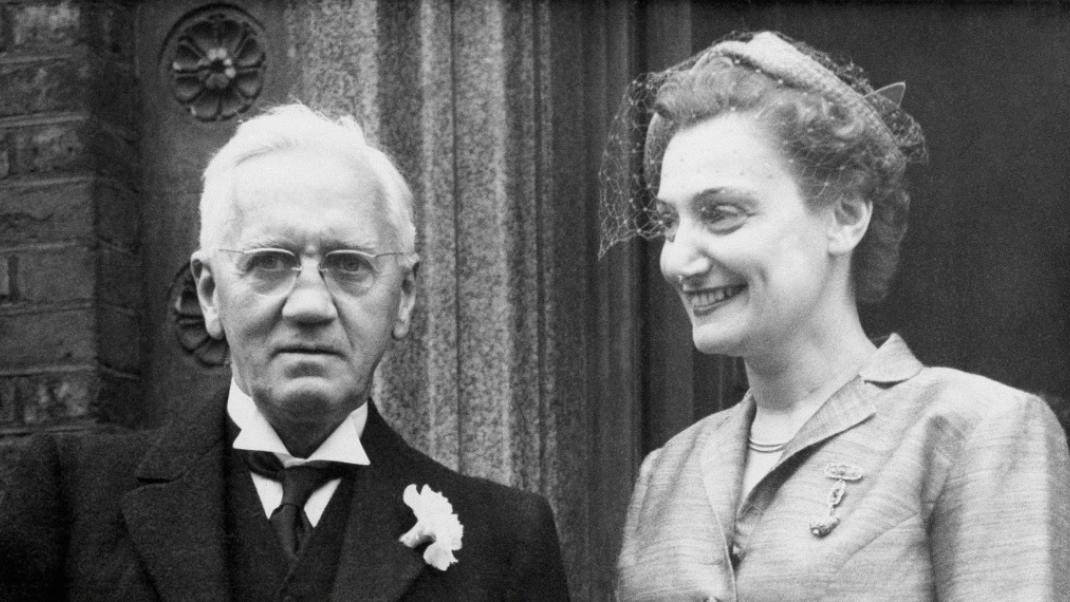 Acting in an important role as director of the microbiological and hematology laboratory of the hospital, Amalia Koutsouri participated in several scientific lectures and thus didn't miss the opportunity; in one of these lectures she invited – by then widowed - Fleming who of course accepted without second thoughts. 
In 1953 Amalia Koutsouri accepted the Scottish Nobel laureate's proposal to marry, and thus went down in history as Amalia Fleming. Their romance lasted only two years, as in 1955 the famous doctor and researcher died suddenly at his home in London after a heart attack. Nevertheless, their relationship and the love of so many years had been fulfilled. 
Amalia Fleming of freedom, democracy and equality 
After a great career in Medicine, the militant and democratic spirit of hers returned for good during the Greek military dictatorship (1967-74). 
During these years, she quickly took intense anti-dictatorship action, helping as much as possible to restore democracy and fighting relentlessly for basic human rights and equality in a wrecked country. She was chased, even considered responsible for participating in the escape of Greek revolutionary Alekos Panagoulis and was finally sentenced to prison. Nevertheless, under the fear of global outcry, the dictatorial regime expelled her and deprived her of Greek citizenship. 
She left again for London where she lived for some time, but her love for Greece was so strong that immediately after the fall of the military junta she returned even more vigorously and testified as a witness in the trial against the dictatorship leaders and accomplices. 
Feeling the need to offer in post-junta Greece, she was elected as an MP three times, in 1977, 1981 and 1985, offering outstanding political work while fighting for world peace, women's rights and fundamental human rights in general. 
She died on February 26, 1986, before having a chance to admire the "Alexander Fleming Biomedical Sciences Research Center", for which she had been working for years. 
Finally the Center was completed in Vari in 1995 and today is considered one of the best of its kind in Europe. 
For her great offer, her name was given to the Sismanoglio - Amalia Fleming Hospital in Melissia, Attica.  
#HerStory