Georges Aperghis is the winner of the Ernst von Siemens Music Prize, which is considered as the Nobel Prize in Music, for the year 2021. The award ceremony is scheduled to take place in February in the Muffathalle in Munich, and will honor his achievements, making Greece proud. 
#culture #music #award #composer  
By Mia Kollia
Translated by Alexandros Theodoropoulos
If he was a painter, he would surely belong to the great Surrealists of his time. Georges Aperghis didn't need an award to be recognised for his achievements, as he has been considered for years one of the most important pioneering composers in the world. He proves that musical intelligence has no limits and that daring visionaries can cause real innovations in their art when charisma, knowledge and devotion are intertwined. 
Georges Aperghis was born in Athens, on December 23, 1945. His father, Achilles, was a sculptor and his mother, Irene, a painter. They managed to provide him with a rich artistic background in post-war Greece, but also with the freedom to choose his course, which he eventually did. As a consequence, Georges developed his skills and charisma, building an independent career as a composer. 
Mostly self-taught, Aperghis was interested in painting and music, which he discovered through radio and occasional piano lessons with a family friend. In Athens, he knew little about the European avant-garde, but read scores from the repertoire and listened to Schoenberg, Bartók and Stravinsky. In 1963 he settled in Paris, studied music and has lived and worked there ever since. 
His first works, "Antistixis", for three string quartets, "Anakroussis" for seven instruments (1967) and "Bis" for two orchestras (1968), showed his influence from both the seriasmos technique and the research of Iannis Xenakis. Aperghis described these pieces as studies, with which he sought to develop a free and personal music language. He was also influenced by the work of John Cage and Mauricio Kagel and by theater, which he discovered through his wife, actor Edith Scob.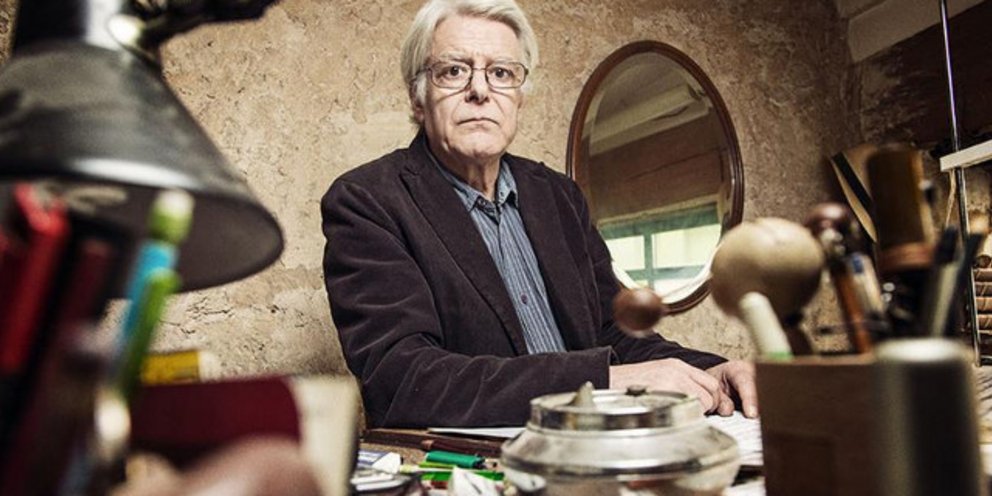 In 1971, Aperghis composed "La tragique histoire du nécromancien Hieronimo et de son miroir", for two female voices, lute and cello. It was his first experience at musical theater, expressing a fascination with the relationship between music, words and stage, which he continues to explore. 
Since 1976, after founding the Atelier Théâtre et Musique (ATEM), he has completely changed his approach to composition. He started creating performances starring actors and musicians. He treated the voice, the instrument, the movement, the text and the direction alike, avoiding the typical theatrical and orchestral hierarchies. His compositions explore the limits of the comprehensible and he likes to create "tangled" pieces that allow him to keep the listener active (the stories emerge but are suddenly refuted).
Aperghi's music is not strictly associated with any dominant musical style of contemporary music. He creates a communication of his own with other art forms and innovates by including electronics, videos, machines, and even robots in his performances. The Greek composer works closely with a group of performers such as comedians, players and singers who are a major part of the creative process. 
Since the 1990's he has made new collaborations with artists from the fields of fine arts and dance.
Achievements 
Georges Aperghis has won: The Mauricio Kagel Prize in 2011, the Golden Lion at the Venice Biennale in 2015, the BBVA Foundation Frontiers of Knowledge Award in 2016 (in contemporary music category), the Kaske-Munich Foundation in 2016, the SACD Grand Prix in 2018 and the Ernst von Siemens Music Prize in 2021.  
 
#HisStory