"Everything is mind and movement." This sentence encompasses the entire philosophy of the work of the internationally renowned Greek sculptor Panagiotis Vasilakis, known as Takis. 
 
By Mia Kollia
Translated by Alexandros Theodoropoulos
He was born in Athens in 1925, spending his childhood and adolescence in a period of successive wars such as the German and Italian occupation and the Civil War. His artistic career began at the age of about 20, although his family didn't accept his inclination towards the fine arts. 
His first works were plaster busts and wrought iron sculptures, inspired by ancient Greek culture but also by artists such as Picasso and Giacometti. At the end of 1953 he left for Paris, where for a few months was part of the studio of the great Brancusi, the Romanian sculptor of abstract sculpture and geometric elegance.
For the next three years he lived in Paris and London, where he was inspired and created his first kinetic works. He was impressed by the radars, antennas and technological constructions at the railway station in Calais, France. As inspiration, he created his first "Signal", which gradually changed form. 
During the next decade, Takis was experimenting with all the elements of the environment and nature that surround us and formed the basis of his artistic career.  He explores the magnetic forces and the energy of magnetic fields, which are one of the foundations of his work.
In 1968 he moved to Massachusetts, where he was invited by MIT on a scholarship as a researcher and created a series of Electromagnetic sculptures. Returning to Greece in 1986, he founded the Research Centre for Art and Science (KETE) in Gerovouno, Attica.
In addition to his kinetic sculptures, Takis has been involved in the creation of sets and music for theatrical performances. Some typical examples are his collaborations with Costas Gavras, Michael Cacoyannis, Nam June Paik and others.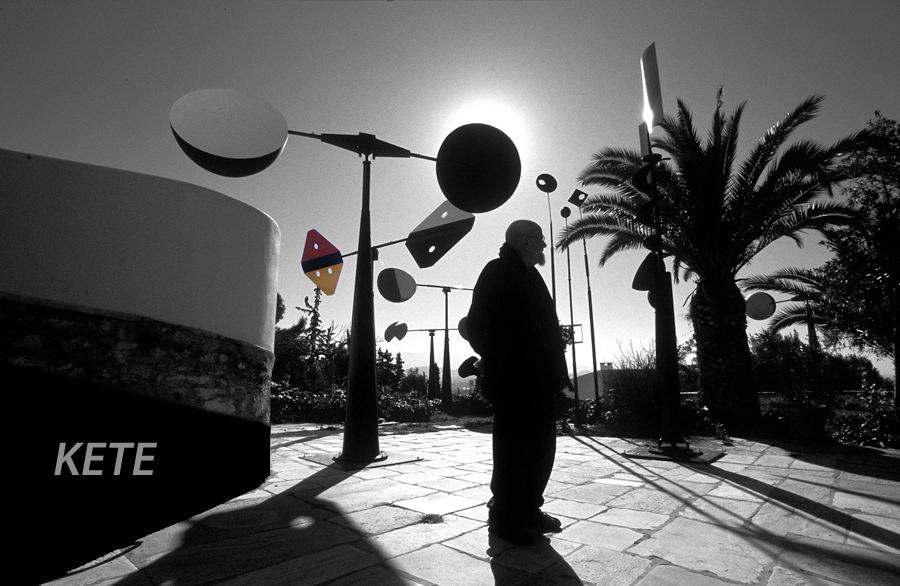 In the 70 years of his creative career in Athens, Paris, London and New York, Takis produced some of the most powerful and radical works of art of the twentieth century, catalyzing the vanguard of post-war Europe. 
At an exhibition in Paris, Greta Garbo fell in love with him. John Lennon and Yoko Ono had mentioned him in the well-known interview they gave to the Rolling Stone magazine. He deeply adored Melina, calling her "my goddess". 
Takis was a citizen of the world but, as he said, "I love Greece for its Apollonian spirit and at the same time for the Dionysian one. Greece is just another dream.  It's got something Apollonius, something fantastic. The Attica land inspires me, all these thousands of flowers and plants." 
The sculptor of magnetism, light and sound, just as it was going to be the title of the exhibition of the Museum of Cycladic Art that would take place in 2020 but was eventually canceled due to coronavirus, was a self-taught artist by conviction. 
But his ingenuity, passion and imagination were inexhaustible. These virtues together with his excellent intuition made him a pioneer and a modern artist, something that contributed to his international success. His kinetic works of art have inspired painters, sculptors and poets of his generation as well as several modern artists.
The internationally renowned art critic and philosopher Pierre Restani wrote of Takis: "…The whole of Takis's work focuses on the imaginary image of space, its music and its vastness. Man transcends gravity through the almighty art, which is, at the same time, love and science; behold the eternal Takis, an unlimited genius".   
 
#HisStory