Mikis of Greeks and of the whole world is no longer with us, but his majestic work continues to embrace our souls, making us all feel part of a collective myth, a spiritual legacy followed by his name which connects us regardless of how far away he may be. 
 
By Alexandros Theodoropoulos
The global Greek Mikis Theodorakis marked the history of Greece in the 20th century. He defined us as an artist who managed through his compositions and melodies to connect all the arts, as a composer who had music in his heart from a young age, as a politician who didn't hesitate to put up with everyone and everything, receiving intense criticism at times and of course, as a resistance activist for freedom and democracy in times of war, occupation, civil war and dictatorship.  
The life of this great man flowed like a stream between conflicting spiritual, artistic, social and political conjunctures as created by history itself.
Childhood, occupation, resistance and civil war
He was born on the island of Chios, on July 29, 1925. His father, George Theodorakis, was from the village of Galatas, in Chania, and his mother, Aspasia Poulaki, was from Cesme, Asia Minor. His parents met in Asia Minor and after the Greco-Turkish war of 1922 they fled to Greece.
Due to the profession of his father who was a senior administrator, Mikis's family traveled throughout Greece depending on his transfers; Mytilene, Syros, Athens, Ioannina (where his younger brother, Giannis, was born in 1932), Argostoli, Ilia, Patras and Tripoli. Thus, Mikis's childhood was full of different and unique experiences that came from the different culture, way of life and local traditions of every area that he lived, something that contributed decisively to the creation of his multifaceted character and enviable temperament. 
From a very young age he had a special interest in music. From the first sounds in Kefalonia, the musical influences of his mother and grandmother from Asia Minor, the children's songs that he wrote and were sung by the whole family at a lunch table in Tripoli, to the Conservatory in Patras that he attended at the end of the '30s, Theodorakis knew from a young age the path he would follow.
When in 1942, as a 17-year-old, he heard Beethoven's Ninth Symphony, he was overwhelmed with confidence about what he was really born to do. In the midst of the Nazi occupation, social and political turmoil, the impulsive Mikis was left in his nature like an active volcano.
It was during that time when he first read Marxism, began to study at the Athens Conservatory and at the same time entered the National Liberation Front (EAM), fighting the Nazis in every way. In that period he met the medical student, member of EPON and later his wife and life-long companion, Myrto Altinoglou, with whom he had two children, as well as a young man whom he had heard wrote good music in the mountains. His name? Manos Hadjidakis. 
The turbulent years had no end for Mikis. He was arrested and imprisoned by the occupying forces, participated with a bloody flag in the great demonstration in Syntagma, Athens, during the Dekemvriana (December 1944 events), enlisted in the Democratic Army and was sent to exile where he suffered ruthless torture as a political prisoner in Ikaria and Makronisos during the Civil War. Theodorakis came close to death many times.  
After a suicide attempt in 1950, he became so familiar with death saying: "The Grim Reaper is my friend."
Regarding all these events he famously said: "I am not a hero. Heroes die young. I am a citizen who does his duty ".
 
The great artist Mikis
The years that followed proved to be the most creative for Mikis and established him worldwide as one of the most important personalities of arts and cultures in general. Inspired by the shocking events of his life and absorbed in a musical drama that possessed him, his talent was now free to unfold.
After several concerts in Greece in the early 1950s, he left on a scholarship to continue his music studies in Paris, writing symphonic music, ballet and film music.
The great successes were not long in coming. Inside a second-hand Opel in Paris, he set to music the astonishing poem "Epitaphios" by Yiannis Ritsos, performing an insurmountable marriage of poetry with folk music that served as a bright path for connecting the bourgeois world with the left mind.
This was followed by the acquaintance and collaborations with the Nobel Prize-winning poets Odysseas Elytis and Giorgos Seferis. "Ena to Helidoni", "Of Justice", "The Axion Esti", "Denial" and many more are some of their works set to music by Mikis and are considered timeless hits. 
After composing the "Ballad of the Dead Brother" which was staged by the troupe of Manos Katrakis and "Mauthausen" by Iakovos Kambanellis, it was time for the great "Romiosini" by Ritsos, which he composed returning home bloodied after a violent police raid in 1966. This was only the beginning, followed by his resistance to the Greek military junta, along with a new round of persecution and imprisonment.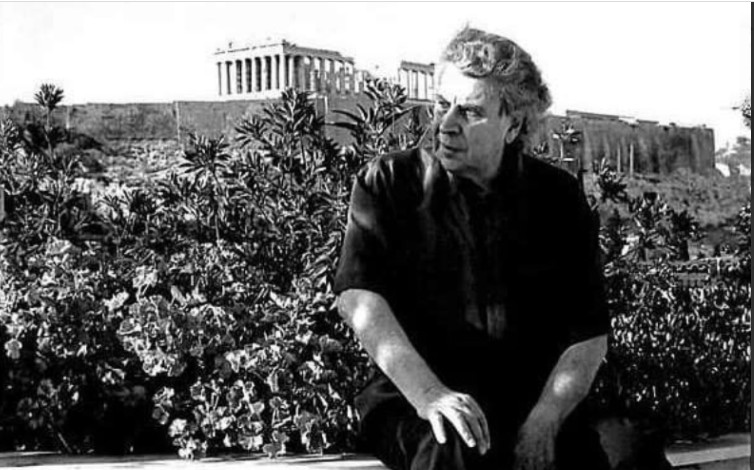 "These trees are not comfortable with less sky…"
In Romiosini, Ritsos's poetry met the enraged Mikis with his melodies, the lyrics took sound from the voice of Grigoris Bithikotsis and spoke to the hearts of the people and all those who fought for a spiritually free and democratic Greece.
He collaborated with Manos Hadjidakis, Grigoris Bithikotsis, Manolis Chiotis, Edith Piaf, Stelios Kazantzidis, Mary Linda and other big names of the time who sang many of his songs.
The Cinematic Mikis
Mikis had been impressed by cinema since the early 1950s. His first great cinema success came with the film "Synoikia to Oneiro", directed by Alekos Alexandrakis in 1961, where Theodorakis wrote the music for the famous "It's raining in the slum" (Vrehi sti Ftoxogeitonia) sung by Bithikotsis. The film and its music caused a storm of political reactions and were heavily censored by the regime. 
In the following years, Mikis made music for great films such as "Electra" by Michael Cacoyannis, "Phaedra" by Jules Dassin, the award-winning "Z" by Costas Gavras, inspired by the murder of Lambrakis, for which Theodorakis won a BAFTA for best music and Sidney Lumet's "Serpico" with Al Pacino.
The culmination of the entire musical career of Mikis Theodorakis came in 1964 with the film "Zorba The Greek" that made him world famous. The story of Alexis Zorbas by Nikos Kazantzakis, through the cinema philosophy of Michalis Cacoyannis, dressed with the syrtaki of Mikis Theodorakis that was danced by the protagonist, Anthony Quinn, created a legendary outcome that became the trademark of Greece. The film won 3 Oscars and is considered an integral part of Greek culture, with the soundtrack, the famous syrtaki, being the most recognisable Greek music internationally.
The Politician Mikis
Before he died, the great composer asked to be remembered as a communist. Mikis was always on the left, although his spontaneity at times accompanied by various political contradictions created a strong doubt in terms of his political thinking. In the 1980s he was elected MP with the Communist party, but later collaborated with the New Democracy party, which provoked reactions among his comrades.
But what we need to understand is that the big picture of a man as anxious as Mikis, with so many special experiences in his life, cannot be overshadowed by various contradictions or controversial attitudes. Wherever he was and whomever he collaborated with, Mikis fought for ideals such as national reconciliation, cooperation and peace between the countries, freedom and democracy.
"We have slept a lot so far. It is time to wake up, to rise up, and together to face, as it should be, the great dangers that threaten our history, culture, ethos, traditions and finally our integrity ".
The greatness
Whatever that can be said, whatever that can be written in a book, a script or an article, won't be enough to encircle the greatness of Mikis Theodorakis.
From September 2, 2021, Mikis of Greeks and of the whole world is no longer here with us. However, the legacy he left behind will forever remain here to remind us that we now have another heavy cultural subject to carry on our shoulders.
The attempt to summarize in one epilogue the life and work of Mikis Theodorakis is in vain. All the heritage, the pride of the country, the culture and the arts that with him met one of the most emblematic paths of coexistence and complementarity, the political history and the struggle for freedom, democracy, justice and meritocracy, are intertwined and eventually become one with his name.
The gratitude of people, of a country but also of the whole world that was cultivated and passionately inspired through his work can be summed up in one phrase; the simplest but at the same time the most comprehensive: 
Thank you, Mikis…
 
#HisStory