Maria Polydouri was a great Greek poet who belonged to the school of neo-romanticism. She was part of the generation of 1920, which developed and featured the feeling of dissatisfaction and decline. Love and death are the two main themes around which her poetry revolves.
 
#poet #love #romanticism
By Mia Kollia 
Translated by Alexandros Theodoropoulos
The First Steps
She was born in Kalamata in 1902. She was the daughter of the philologist Eugenios Polydouris and Kyriaki Markatou. Due to the transfers that her father used to take as a teacher, she went to many different schools in different places like Gythio, Filiatra and Athens where she went to Arsakeio for two years. She finally completed her high school studies in Kalamata. 
Maria Polydouri appeared in Literature at the age of 14 with the song "O Ponos tis Manas (The pain of the mother)" which was inspired by the obituaries she heard in Mani. At the age of 16, she was appointed to the Prefecture of Messinia and at the same time expressed a keen interest in women's issues. 
Two years later, in 1920, she lost both of her parents in 40 days, a fact that shocked her but at the same time set her free. Thus, she was transferred to the Prefecture of Athens and at the same time enrolled in the Law School of the University of Athens.
Maria Polydouri - Kostas Karyotakis: An unfulfilled love
In the Prefecture she met one of the most significant poets of Greece in the interwar period, Kostas Karyotakis. Maria was then 20 years old and Karyotakis 26. A strong love developed between them and although it didn't last long, it had a decisive influence on her life and work.
In August 1922, a few months after they met, Karyotakis learned that he was suffering from syphilis, an incurable disease at the time, and asked her to break up with him. She proposed to him to marry her even without having children, but he couldn't accept such a sacrifice. Polydouri doubted his sincerity and considered that his illness was a pretext to leave her.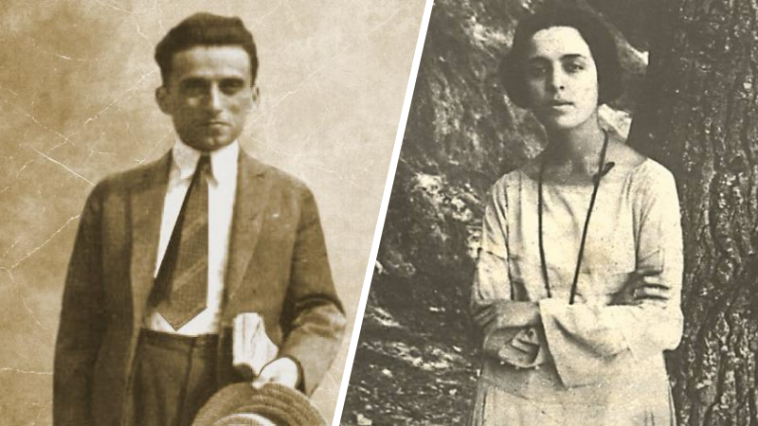 In 1924 the poet met Aristotelis Georgiou, a rich young lawyer who had just returned from Paris, and they engaged in 1925. But deep down, she always loved Karyotakis. So she couldn't concentrate on anything. After being consistently absent from her job, she lost her position in the public sector and then she left Law too. 
She enrolled in the Kounalaki Drama School and the Vocational Theater School, but even that wasn't enough to make her forget her unfulfilled love for Karyotakis. In 1926 she broke off her engagement to Georgiou and went to Paris, where she began taking sewing lessons. Eventually she didn't manage to work, as she contracted tuberculosis. She returned to Athens in 1928 and was admitted to Sotiria Hospital. There, she met Yiannis Ritsos, who was also hospitalized, they became friends and Polydouri dedicated the poem "I Thisia (The Sacrifice)" to him.
The suicide of Kostas Karyotakis on July 21, 1928 filled her with despair. In the same year, she published her first poetry collection "Oi Trillies Pou Svinoun (The trills that go out)" and in 1929 followed the second, "Echo in chaos". However, her illness had overwhelmed her. In the early hours of April 29, 1930, she passed away at the Christomanou clinic.
The Legacy
Maria Polydouri is now considered a legendary figure of Greek poetry and literature in general. She is remembered as an authentic poet and as a symbol of prematurely lost beauty, fatal love and wasted youth. 
Polydouri's "Complete Works" was first published in the 1960s by Estia Publications, edited by Lili Zografu. Maria Polydouri, before devoting herself completely to poetry, had also dealt with prose. In 1926, she wrote "Romance" which is an early example of a modern turn of the Greek prose, both in terms of the original narrative techniques and the modern ideas expressed in the novel.
The following well-known poem by Maria Polydouri belongs to her usual poetic climate, which is formed mainly by an erotic feeling, imbued with a feminine sensitivity.
 
Near you (Konta sou)
The winds are not wild near you.
Near you is peace and light.
In our mind the golden rod
there's a wrapped meditation.
Near you silence looks like laughter
watering eyes tenderly
and if we ever talk, it rages,
somewhere beside us the unemployed joy.
Near you sadness blooms like a flower
and passes unsuspectingly into life.
Near you all is sweet and everything is like fluff,
like a caress, like a dew, like a breath.